Beauty
CocoBaba Has Arrived…
I can't begin to express what an exciting day this is for me. Today we launched CocoBaba in Germany. This company has taken 4.5 years to come to fruition and here it is! My third baby 😉
CocoBaba is my coconut-based natural vegan skin care line for both moms and moms-to-be. You know how much I LOVE coconut oil.
Let me give you a little backstory to how and why we've arrived here today.
While I was pregnant with my first baby, Mabel, I suddenly became acutely aware and conscious about the cosmetic products I was using, especially on my growing belly. I felt it was important for me to take a natural approach to my pregnancy, knowing that I was responsible for this new life inside me.
I've been in the beauty and fashion industry for more than 20 years. I've used and tried a lot of products as you can imagine, but also because I'm a bit of a product junkie. But I'd used these products never paying much attention to the ingredients.
I became hyper-conscious to the world around me once I became pregnant. I started reading labels and doing research, which I hadn't done before.
I wasn't confident about the anti-stretch products on the market while I was pregnant but I knew I needed to find one quickly. We need to take special care of our skin during pregnancy, and I especially have too since I'm prone to getting stretch marks.
So I went back to a family favorite. Coconut oil.
I became hyper-conscious to the world around me once I became pregnant...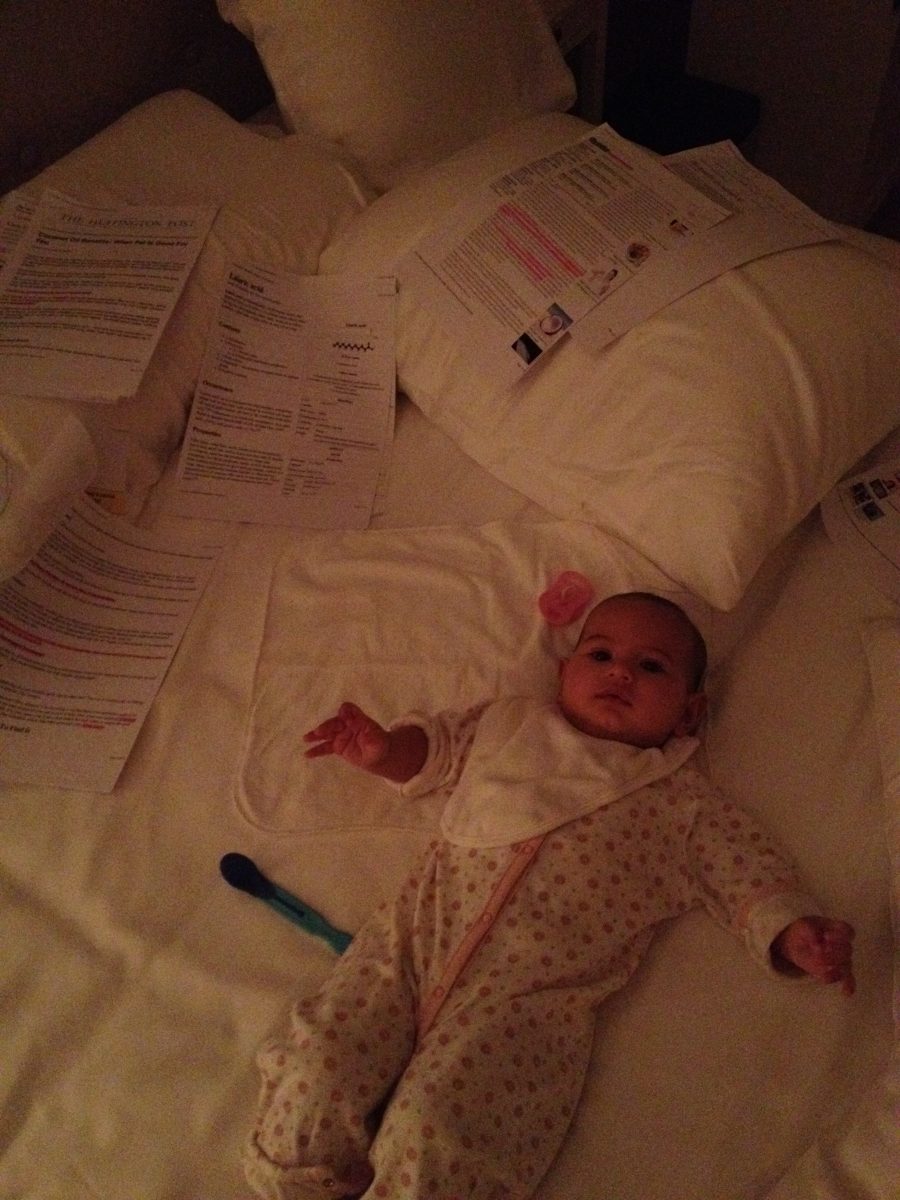 Coconut oil is natural, safe and very effective. I used it throughout my whole first pregnancy and thankfully I did because I was, well, huge. Mabel weighed 9 lbs. 1 once (4 kilos). And as I said, I am prone to stretch marks, but I did not get one. I fell in love with coconut oil all over again.
What I did not fall in love with was shopping for my secret beauty weapon off the shelves in the oil and vinegar section. There needed to be one we could buy somewhere other than Aisle 4 at Whole Foods.
I started talking to experts in Germany about the use, efficiency and safety of coconut oil. The feedback was overwhelmingly positive. And the rest is history! We now have CocoBaba.
We have three products. The body oil, scrub and body mousse, which can be used separately, but I think is best used as a system. I'm all about hydration and no one will ever tell you-you are too hydrated!
Our main ingredient is coconut oil. We've added other natural oils for extra hydration and protection. We are free of silicones, paraben, and mineral oils. We are Non-GMO and 100% vegan. And made in Germany. YES!
And even if you aren't planning a pregnancy this product is still for you. Who doesn't love an anti-stretch system that is natural and organic?
For the time being we are only available in the EU on Apo-rot.com or on CocoBaba.com but I hope by next year we will be available in the US and dare I say worldwide? 😉
The picture you see is Mabel at 2 months. We were living in Budapest while my husband was filming Die Hard 5. All the paperwork around her was the start of my research on coconut oil. I remember vividly taking that picture while having a Eureka moment thinking, I'm starting to work on something really special and indeed it is. I have to say that all my best ideas and inspirations have come because of my children. I feel so lucky and blessed.
Here's to being a #CocoBabaMom
Emma xx
CocobabaCocoBaba Momcoconut oilvegan