Beauty
Coconut Rosemary Citrus Scrub…
Spring has sprung… mostly 😉 and as we start shedding our winter coats and scarves, it's also time to remember to nurture our skin. Winter is not kindest to our outermost layer. From cold weather conditions to being dried out by heaters and cozy fires, winter can take a toll on our dutiful dermis. You've probably got the memo by now that I'm a HUGE fan of coconut oil. There isn't a more multi-purpose around, amazing gift from nature! In case you missed my previous coco-centric recipes, here is a lovely body butter which is great to make for yourself or to share with friends. I also love this wind-down bath recipe that is great for soothing your soul AND skin.
Simply put, exfoliation is the removal of dead skin cells on the skin's surface. Exfoliating is important for your skin's health and appearance. When old skin cells aren't given the boot, our skin tends to look dry, dull and rough (hello elbows). Not exfoliating properly can also cause your skin to produce excess oil and clogged pores which equals acne and blemishes. Yuck. You also have to be mindful to not over exfoliate because you risk irritating and damaging your fresh new cells. When exfoliating make sure and adhere to any directions given on the product or by your esthetician. In the coming months I'm going to talk more about ingredients and how varying your scrubs from salt to sugar, for example can make big changes in your skin's health. Another benefit to exfoliating is that it makes way for your moisturizing products to be absorbed better thus making your products more effective.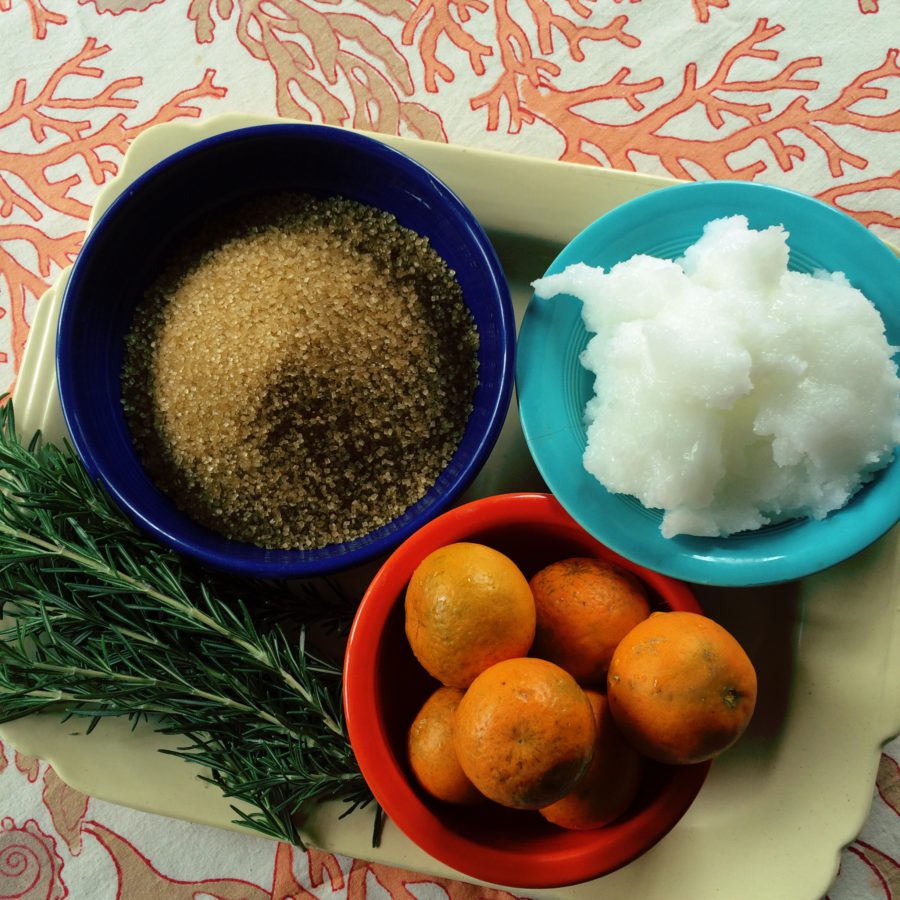 Sugar particles are smaller than salt's particles, making it less abrasive and better for sensitive skin...
Today's scrub recipe is made using sugar. The sugar I'm using is raw and unrefined, which contains iron, magnesium and potassium, which feeds and replenishes your skin. What I really love about this recipe (besides the coconut oil of course) is my recent skin "helper" discovery of rosemary. Good ole rosemary is loaded with antioxidants that help with premature aging and increasing skin elasticity. Rosemary also contains iron, calcium, and phytonutrients that can help protect skin cells from sun damage. The oil in rosemary actually helps stimulate cell renewal while infusing the skin with moisture and improving skin circulation.
Tangerine is another skin loving ingredient I added to this recipe. Tangerines are high in vitamin A, which great in helping skin rebuild tissues as well as vitamin C, which is good for stimulating the production of collagen, which is key for keeping our skin supple.
Last but certainly not least, it is my skin's main squeeze, coconut oil. Coconut oil is naturally antibacterial and antifungal. You can use it in almost any part of your beauty regime. From shaving, deep conditioning your hair and skin to amazing skin scrubs (hint, hint).  You can even use it as a makeup remover and to condition your eyelashes while you are at it!
Speaking of coconut oil amazingness, my friends over at Thrive Market, are giving away a FREE jar of coconut oil to any new customers if you use this link. If you haven't tried Thrive Market yet, now is the time! Great, wholesome products available at a discounted price. Definitely worth a peek!
Today's scrub is simple and easy to make. I mean, you could even eat it if you wanted to… When was the last time you said that about any beauty product?!? I do not recommend, however, using this scrub on your face as citrus can be irritating. (P.S. please don't eat the scrub. Just showing how amazingly natural and yummy it is for your skin!!)
Goodbye dry skin… Hello spring and skin softness!!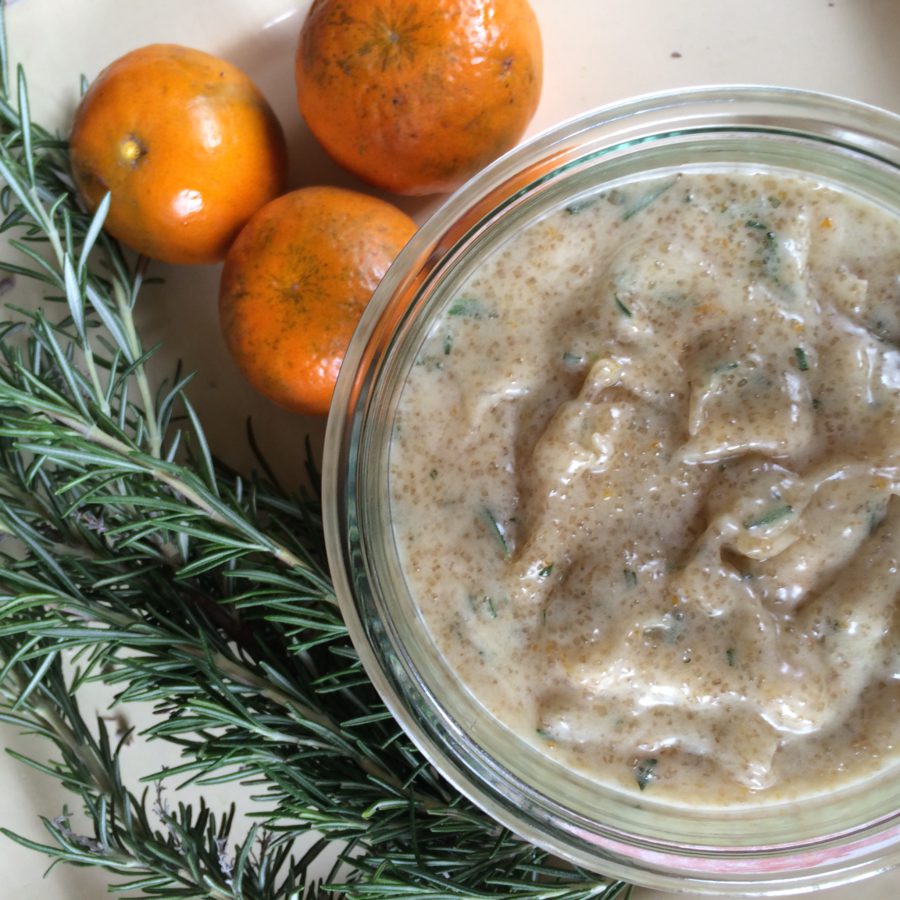 Coconut Rosemary Citrus Scrub
| | |
| --- | --- |
| 2 cups | |
| 1.5 cups | |
| ¼ cup | chopped rosemary |
| 2 tablespoons | tangerine zest |
| 1 tablespoon | tangerine juice |
Add all items to your mixer and blend on medium speed for approximately 2 minutes.  Pour scrub into containers and let set overnight. I like to keep a jar near the kitchen sink and give myself a little scrubbie dubbie after doing the dishes. Really helps with dry hands. When doing a scrub in the shower I sometimes keep in a plastic container as to not risk breaking glass in the shower.
What is your favorite tip for defeating dry skin?

beautyBody butterCitruscoconutcoconut oilDiyDry skinorganicRaw sugarrecipeRosemaryScrubskincarewinter