Food
Easy Weeknight Dinners…
I've said it before, I'll say it again. I'm a no-fuss Mama. My no-fuss outlook definitely extends to the kitchen. I want to feed my family healthy and yummy  meals  but, I'm not going to spend 6 hours toiling away in the kitchen to make dinner every night. Especially on a weeknight when we are just getting back into the swing of school .
As we parents know, life is already plenty busy with your kiddos. For me, meal planning is essential to my no-fuss Mama way of life. Recently, I shared my top-5, Easy Weeknight Dinners  with my friends over at Us Weekly, and now I'm sharing them with you.
Salmon Packet with Veggies
Parchment packets allow the fish and vegetable to cook in their own juices producing amazingly delicious meal without all the heavy lifting. The extra bonus is that you don't have a sink full of dishes after you are done cooking. You can purchase pre-made pouches from the store or try your hand at making the packets yourself. The key is to make sure you have them completely sealed so your meal cooks properly by steaming. To make them yourself, you cut out a heart shape and place your fish and veggies on one half of the heart. The "heart" should be big enough that you have about an inch to an inch and a half of space around the filet and veggies. Fold the other half over and starting at the top or your "heart" join the two halves together by making overlapping folds. Tuck and fold the tail or bottom of the heart to create a seal. You can use foil as well.
Ingredients (per pouch)
| | |
| --- | --- |
| 1/4 | cup sliced zucchini |
| | Juice of 1/2 lemon |
| 1-2 | sprigs of dill |
| | Filet of salmon (approximately 6 ounces) |
| | Salt and Pepper to taste |
| | Drizzle of olive oil |
| 1-2 | pieces of thinly sliced lemon |
Preheat oven to 400 degrees. Place zucchini on a piece of parchment. Season with salt and pepper. Drizzle with olive oil and lemon juice. Place fish on top of veggies and season with salt and pepper and olive oil drizzle. Top with sliced lemons and sprigs of dill.  Seal pouch as described above. Place on a baking sheet and bake for 10-12 minutes. Serve immediately.
Build your own Pizzas w/quick dough recipe
Pizzas are a fun build your own project you can do with the kids. This is a fun activity you can do with playdates as well. Everybody gets to make their own so you aren't limited if you are dealing with multiple picky eaters. If I'm the one at the helm, I sneak a layer of spinach below the sauce. My girls don't even notice.
Ingredients:
| | |
| --- | --- |
| 2 | eggs |
| 2 | cups almond flour |
| 2 | Tablespoons melted coconut oil |
| 1/2 | tsp of salt |
Toppings of your choice (cheese, sliced veggies, pepperoni, etc.)
Preheat oven to 350.  Combine all ingredients thoroughly. Form dough into 2 balls. Roll out the dough between two pieces of parchment paper and transfer pizza crust to a parchment paper baking sheet or pizza stone. Take a toothpick or fork and poke dough a few times before placing into the oven and baking for approximately 15-20 minutes or until golden brown. Remove and add your preferred toppings. Return to oven for 5-7 minutes until cheese is melted.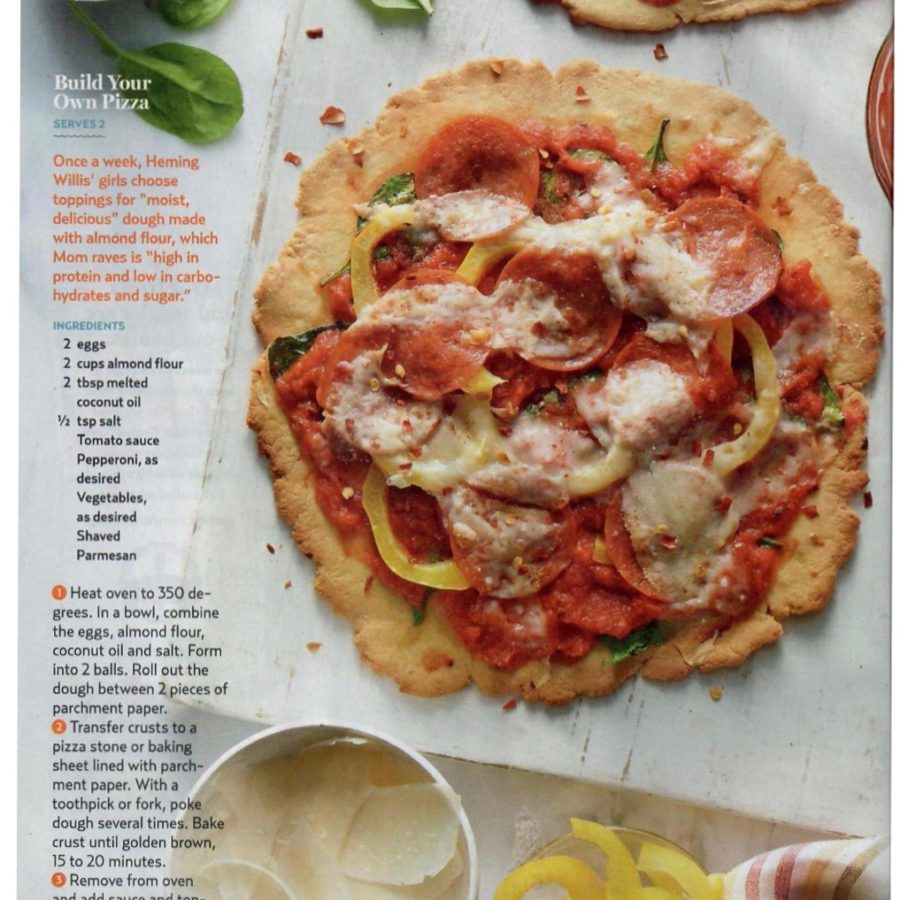 For me, meal planning is essential to my no-fuss Mama way of life...
Chicken Salad Cups
Use leftover chicken or that rotisserie chicken you get at the store to make a salad that's sexy and healthy. I featured a version of this recipe as a great way to beat Thanksgiving leftover blues!
Ingredients:
| | |
| --- | --- |
| 2 | cups cooked chicken |
| 3 | celery stalks |
| 1 | apple (cored) |
| 1/4 | cup sliced almonds |
| 3 | Tablespoons Mayo |
| | Salt & Pepper to taste |
| | Boston "Baby" Bib lettuce leaves |
Place turkey, celery and apple in your food processor (each item separately) and pulse until chopped.  Place all items in bowl and add almonds and mayo. Stir until combined and add salt and pepper to taste. If you don't have a food processor, chop the above until small bite sized pieces. Toss together with mayo, almonds and S&P. Serve mixture in lettuce leaves.
Turkey Chili
I know the chili battle between aficionados is usually about whether you add beans or not. To throw a health monkey wrench into the mix, I'm going to use ground turkey. I prefer turkey meat in my chili. I feel the turkey absorbs all the flavors better and tastes delicious. What I love about chili is that you can add whatever toppings you like best. I guess I'm a sucker for a build-your-own meal.
Ingredients:
| | |
| --- | --- |
| 1,5 | pounds ground turkey meat |
| 3 | cups canned diced tomatoes |
| 1/2 | jalapeño diced |
| 1 | large zucchini (2 regular sized) |
| 1 | red bell pepper |
| 3 | tablespoons diced garlic |
| 3 | Tablespoons cumin |
| 2 | Tablespoons paprika |
| 2 | Tablespoons olive or Non-stick spray |
| | Chayenne to taste |
Take Large Saucepan (or deep wok) and spray nonstick spray or 1 Tablespoon of garlic.  When pan is hot add  1.5 Tablespoons of garlic. Then add turkey meat and brown. Remove Turkey meat from pan and set aside. Using same pan, spray again with non-stick spray or use Tablespoon of olive oil.  Add diced zucchini.  Cook for about 3 minutes and then add diced bell pepper and jalapeno.  Saute' until veggies are al dente.  Add cooked turkey meat. Season with cumin and paprika.  Add tomatoes. Combining  all ingredients, continually stirring. Simmer for 20 minutes.
Suggested toppings:
Cheddar cheese, finely shredded
White or purple onions, chopped
Fresh cilantro, roughly chopped
Corn chips
Plain greek yogurt or sour cream
Mini Meatloaves
These mini meatloaves are perfect as part of a make-ahead meal and ideal for school lunches as well. You can use your trusty muffin tin as the perfect mold for each meatloaf.
Ingredients:
Meatloaf:
| | |
| --- | --- |
| 1 1/2 | lbs ground turkey or beef |
| 1 | egg |
| 1 | teaspoon salt |
| 1/2 | teaspoon pepper |
| 1 | teaspoon of garlic powder |
| 2 | tablespoons of Worcestershire sauce |
| 1 | small yellow onion diced |
| 1 | small red bell pepper diced |
| 1 | cup seasoned bread crumbs |
| 2 | Tablespoons of olive or vegetable oil |
| 1/2 | cup shredded cheddar cheese (optional) |
Tomato Glaze:
½ cup ketchup
1/4 cup brown sugar
Dash of Worcestershire sauce
Preheat oven to 425 degrees. Brush muffin tin (6 slots) with olive or vegetable oil. Place ground turkey/beef into a bowl. Add diced onions and bell peppers. Add beaten egg to the meat. Add breadcrumbs, salt and pepper and Worcestershire sauce. With clean hands, mix everything together. Make sure to wash your hands thoroughly after working with raw meat. Using a large ice cream scoop (or your hands) place the meat into the muffin tins. Mix together all ingredients for tomato glaze and place a spoonful on top of each meatloaf. Bake 20 to 25 minutes or until cooked through.
What are some of your go-to weeknight meals with your family? PLEASE share them down below in the comments as I'm always on the prowl for recipes.
Emma xx
DiyHealthyrecipes. weeknightUS-Weekly