Beauty
Fall Skin Savers…
Cool Fall weather is so lovely, but I will take a pass on the dry, itchy, cracked skin that can accompany the change of seasons. As the weather changes with the calendar, our skin (and hair) routine needs to change as well. Our skin and hair regime is also dependent on where we live. Those of us on the east coast must slather more lotions, creams, and salves to keep us protected from the cold, wind, and heat (from all of the heaters and cozy fireplaces). That's not to say the west coast gets off easy, as they suffer their own set of weather related skin issues as well.  I mean, have you seen the state of affairs in southern California when the temperature dares to dip below 70 degrees!?! Ha! Totally teasing my west coast friends. Those are just the words of a weather jealous woman! Jokes aside, the west coast is not immune to needing a little extra skin and hair love and moisturization. The bottom line is (to borrow an infamous line from Game of Thrones) "winter is coming", and we need to take extra care of our skin. Here are my rules for keeping your dermis glowing in all the best ways.
Rule #1 Hydrate
You've gotta start from the inside if you want to nurture your outside. Keeping yourself hydrated will help your skin stay supple. Lack of hydration can make pores and wrinkles look more prominent and leave your skin looking dull. Add colder weather, whipping winds, topped with drying ourselves out even further with heaters can leave your skin feeling extra crispy. Also as the weather becomes cooler, we tend to drink more hot beverages like tea, cappuccinos and lattes. It's often thought that drinking caffeine dehydrates you, but according to the Mayo clinic  it does not officially. However, caffeine can be a mild diuretic (may cause you to urinate) which does mean you do need to make sure that you are keeping up with your water intake or you will indeed become dehydrated. So drink up, Buttercup. Your skin will thank you.
Rule #2 Cleanse
Washing away the day's makeup and dirty is key to saving your skin any time of the year. Fall and winter months, depending on your skin type, you might need to up the moisture level in your cleansing products to keep skin glowing.  Cerave Hydrating Cleanser  gently cleanses the skin while helping to maintain the right moisture balance.  Murad's Cleansing Cream  is perfect even for sensitive skin plus cleansing creams are more hydrating. This gentle face wash contains no dyes or artificial perfumes. If you are feeling lazy or on the run, these super heavenly smelling, Yes to RMS's coconut facial wipes  will have you wishing for a beach side Pina Colada. 
Rule #3 Exfoliate
Exfoliation is the process of removing dead skin cells from the skin's surface to make room for your skin to shine. Fall and winter are times we have to stay on top our exfoliating routine. I've previously shared my incredibly simple home grown coconut-rosemary citrus scrub recipe  that is deliciously perfect. You can also put on these Korean exfoliating textured mitts  and massage the body away of dead skin cells to reveal bright and healthy skin. It doesn't get more old-school than Queen Helene Grape Seed Extract Peel off Masque. Dry skin literally gets peeled away revealing fresh, clean skin and the price couldn't be more right. But of course, I'm a huge fan of my own CocoBaba coconut oil body scrub made from the husk of the shell. Waste not want not! This will leave your body so silky smooth. 
As the weather changes with the calendar, our skin (and hair) routine needs to change as well...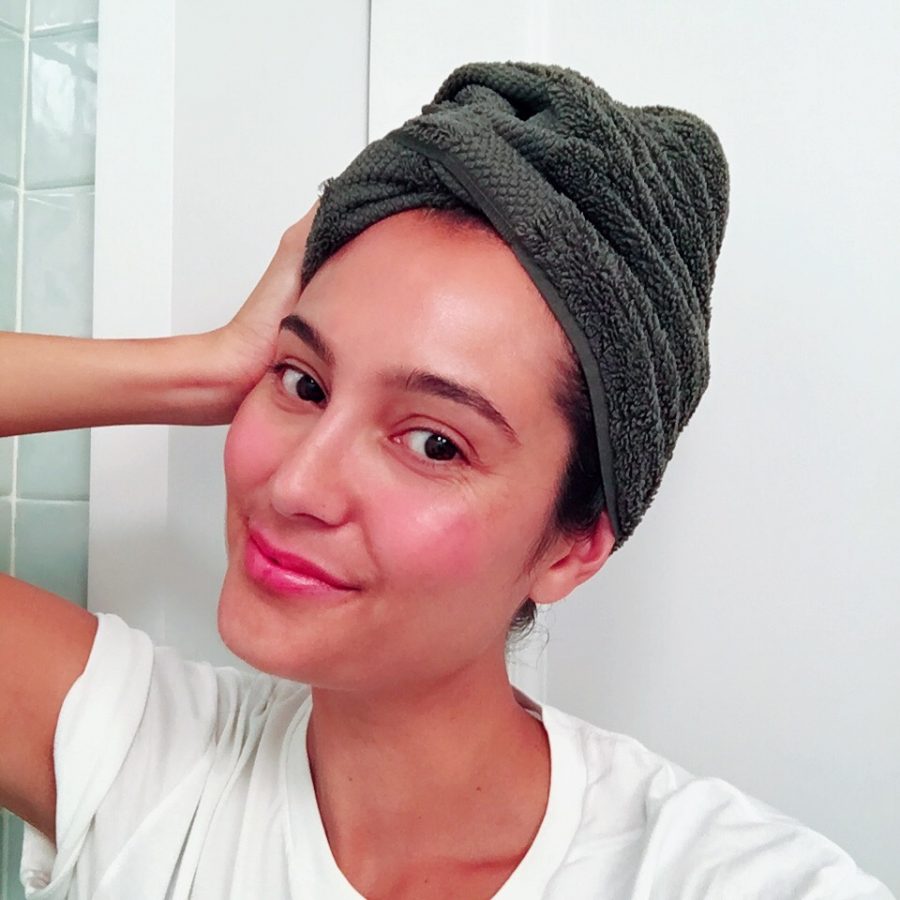 Rule #4 Mask
Masks are the perfect way to show your skin some extra love. This Origins Drink Up Intensive Overnight Mask  is an intense moisture replacement mask with avocado and apricot kernel oil that deeply and instantly quenches compromised moisture starved skin. Like most Origin products, it smells like heavenly botanicals. It is also super fab to use on dry patches like elbows and knees. It doesn't get more old school than Queen Helene Grape Seed Extract Peel off Masque Dry skin literally gets peeled away revealing fresh, clean skin and the price couldn't be more right. Sephora's brand of single serving sleeping masks with a variety of types to soothe any savage dry skinned beast into happy moisturized submission. You can't forget about your hair and will not be let down by my coconut oil hair mask  or this Bamboo UV + Color Protection Rehab Deep Hydration Masque .
Rule #5 Moisturize
I may be slightly biased 😉 but my labor of love, Cocobaba  is the ideal product line to take care of your body's skin and keep you moisturized all year long (Currently sold in the EU only). This Beautifully scented Shea Moisture Raw Shea Butter Body Lotion with Frankincense and Myrrh is deeply hydrating. Organic Shea butter nourishes and moisturizes while helping revitalize dull looking skin. For your nighttime routine, I love Origins High Potency Night-a-Mins Mineral Enriched Renewal Cream. Put dullness to rest and wake up radiant and refreshed. Best for combination and dry skin types, moisture rich replenishers rehydrate and revive, while relaxing aromas of neroli, valerian, and vanilla help lull you to sleep. A Perricone MD favorite of mine is the Multi-Action Overnight treatment that fights lines and wrinkles at night to firm, tone, and tighten skin's appearance so you wake up to a deeply hydrated complexion that looks refreshed, radiant, and revitalized.
Rule #6 Soothe
Perricone MD has recently reformulated and relaunched one of their very stellar products called, Blue Plasma . It is a bit pricey at $98, but because it is a concentrated serum, you only need 2-3 drops per day. This magical face serum is made with hyaluronic acid and botanicals to help skin's hydration and plump the appearance of fine lines and wrinkles. Blue Plasma is clinically shown to increase skin renewal by 35% in 7 days and 100% after 3 weeks of use.
Or perhaps try this Jurlique Calendula Redness Rescue Restorative Treatment Serum. A serum for sensitive skin that helps provide a natural protective barrier against environmental aggressors and restores the skin's epidermal defenses.
What are your favorite products for fall and winter? Do you have any home beauty remedies you like to use to soothe dry skin?
Emma xxx

Cocobabaskin issuesskincare