Must-Haves
Family Game Night…
We are totally a TV watching family…in moderation. Moonlighting  totally counts as educational television, right?!? Kidding aside, like most parents, I do my best to keep my children's screen time (tv, ipad, tablet, etc.) to a healthy minimum. Truth be told, that's not that incredibly hard (most of the time) and I believe that's because we LOVE playing board games and such in the Willis household. Date night  or otherwise there's usually a game of Jenga  going down in our home at least once a day. Even Evelyn has joined our Jenga family obsession. There's nothing sweeter than her chubby little hands getting in on the action. When it's her turn, Bruce and I have to push down on the top of the Jenga pile so the whole tower doesn't fall. She's not as delicate with removing the pieces…yet. Mabel has been a pretty good sport learning to be patient with her little sister while Evelyn works on her dexterity (with those stinking cute and kissable fat baby hands).
Games are a great way to engage with your entire family. Not only are they a fun way to connect with others, they also provide tremendous learning opportunities for our kids. The games themselves don't need to be overly academic to be incredibly educational. Just by virtue of playing them, kids are learning important social and educational skills. Skills like waiting your turn (patience), communicating verbally, fostering the ability to focus, eye-hand coordination and lengthening their attention span just for starters.
The holidays are the perfect time to get some game time in with your #squad. Goodness knows with our little babes on their school holidays, we all will be looking for viable entertainment options. Particularly those that don't revolve around a television or tablet. More about kids and our battles with screen time in an upcoming blog. But speaking of holidays, board games also make the perfect gift for your kids. They are also a fabulous budget-friendly gifting idea for families. So toss out that fruit cake you were planning on handing out to the Smith family and give the gift of Pie Face  instead. I hear Pie Face is all the rage these days. I think the anticipation of getting splatted in the face with whipped cream would do me in, however, this game sounds right up Action Mabel's  alley.
Below are some of the top games that I know your family will enjoy.  I've included games for various ages as well.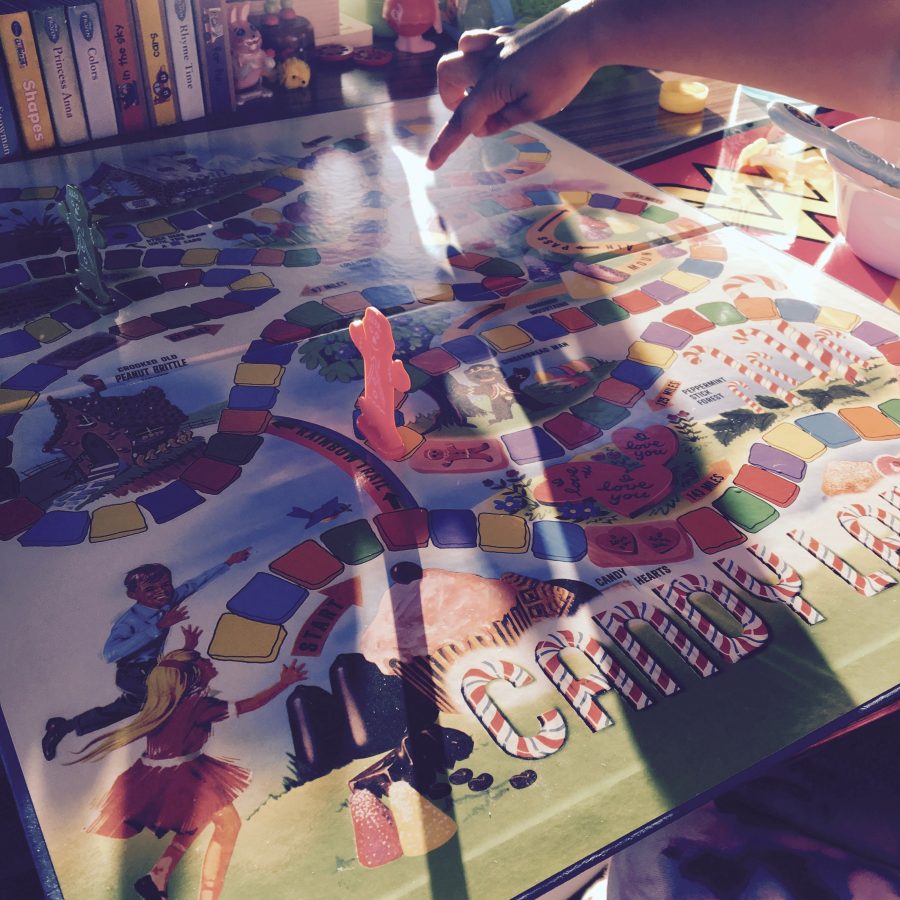 Games are a great way to engage with your entire family...
Card Games: 
Super-size any regular card game with these GIANT playing cards . Sure to elicit lots of giggles. Uno  is an oldie but a goodie that we love playing at my house. This is a little tweak from traditional Go Fish, called Sushi Go . Some families love poker nights. This is still a little over my kiddos game playing level but I found this cool video  about teaching your kids poker that I think I may utilize in the future. I can see Mabes running the table with a lil family-friendly game of Texas hold'em. For those with little hands who struggle with holding cards there's this playing card holder  that would be perfect for keeping those royal flushes from getting away from you. Mabel loves this ice cream memory game from the Land of Nod. I've also heard great reviews on Monopoly Deal , a card-based version of Monopoly that only takes 15 minutes to play.
Classic Board Games that stand the test of time:
Pictionary **Comes with multiple levels of clues (adult & junior) so all can play!
Great for parties and groups:
Apples to Apples  and the junior version , too! 
More fun than a spelling test:
And who could forget, Connect 4 ??
I could go on and on and on! Suffice to say, The Willis family is all-in for game time. Especially with cooler weather setting in, I want to have my stockpile for family game time ready! What are your favorite games to play with your family?  Please share in the comments below as I'm always game (ha!) for new suggestions and I know other readers would appreciate the scoop as well.
Emma xx

board gamesfamily funfamily timegift guide