Mamahood
Finding Your Passions …again
Before I became a mom I had hobbies! Lots of them. From meeting up with my friends for lunch or dinner, or an evening out, to needlepoint and knitting. I was also a voracious reader, it didn't matter whether it was something on the New York Times bestseller list, a little heard of author, or a cool book where I would discover something fascinating I didn't previously know, you could always find a book in my tote. I was able to balance it with my heavy work schedule because it was prior to kids–I now realize, it was a cinch then!
After having my first, my hobby became my baby Mabel. I became completely and totally consumed by motherhood. I know that's a common theme for most new moms. But after a while, I needed to get back to finding "me" as I had forgotten what defined me–I had somehow lost part of my identity. It took some time to crawl out of that mommy cave but I did and just in time for the arrival of baby number 2! Back to that cave, mama!
Yes, my kids are getting older, yet mommyhood/family life remain my top priority. I am learning how to juggle my work life too as that's really taken off in many different and exciting directions . I find it all very fulfilling but I've realized how important it is to have time for myself. I write about it a lot–self-care. Whether it's a five-minute mask or getting more sleep , taking care of ourselves is so crucial. And having a hobby that we are passionate about and all our own is really vital to our mental health as well. I also think it's healthy for my kids to see me pursue something that feeds my soul.
After having my first, my hobby became my baby Mabel. I became completely and totally consumed by motherhood...
Joyce E. A. Russell from The Washington Post says, "We have long given up on having any personal time in order to devote our energies to our work or families. But rarely do we give ourselves time for our own activities. Yet finding time for ourselves is key to our own sanity. It can actually improve all the other aspects of our lives. Having a hobby may be even more important to people who lead very full and busy lives."
Here are a few ideas I thought that might spark your interest: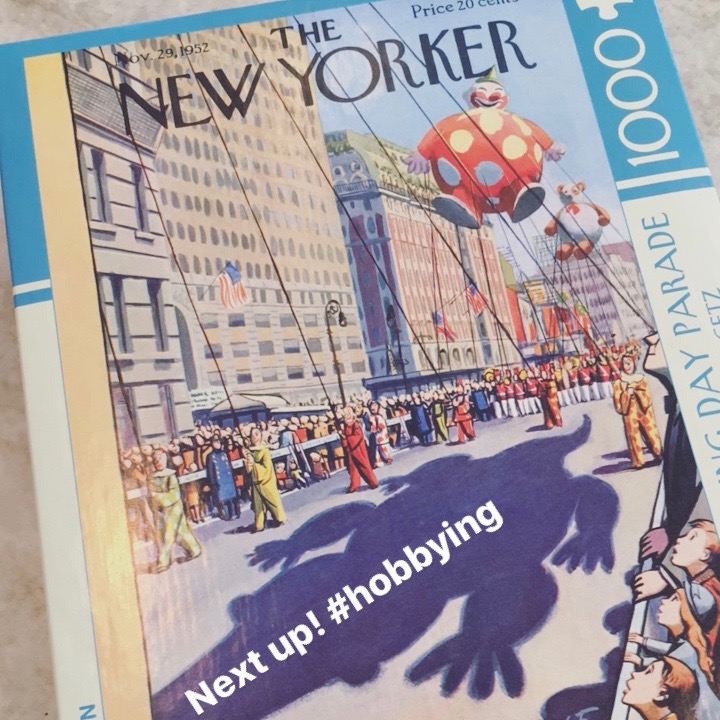 Puzzles: At the moment my new hobby is putting together puzzles (if you haven't noticed from my IG posts) and framing them. My mom and I used to do puzzles when I was a kid and it's a wonderful memory I have from my childhood. What's great about it is how tuned out I can get when I get involved. It's kind of a meditation where my mind is not thinking a million other things all at once–it really grounds me. And my husband can get involved and it's fun for us to bond that way too.
Musical instrument: I've always wanted to learn to play something, anything really. Why not take a class?
Learn a language: From my modelling days I picked up French and Italian but over time have lost it. I would love to get it back! Rosetta Stone offers a wide variety of languages that you can do from the comfort of your home.
Join a book club: If you used to be an avid reader, pick it up again and start a club with some friends. It's a great excuse to pick up a book and get social again.
Volunteer: I find nothing more rewarding than volunteering my time and resources to Room to Grow. Or how about volunteering at an animal shelter?
Pottery: Demi and Patrick Swayze made it look SO appealing in Ghost. Wouldn't it be cool to learn how to throw a pot?
Start collecting: I knew someone who collected tea cups and saucers and always loved hearing about where each one came from.
Learn Calligraphy
Start a tennis or squash team
Needlepoint
Knitting
Take a cooking class
Get into politics and fight for what you believe in
Train for a marathon
Endless ideas! Nothing wrong with wanting some me time. We all need it!
Tell me about some of your hobbies …

adult timehobbiesme timepuzzlesself-care