Beauty
Fresh Out The Door…
I've never had to rely so much on make-up like I do now. Between my melasma that developed during my pregnancies and my dark circles (we all know where that comes from) I need some make-up magic before I get out the door. I've also never liked the look of too much make-up. At the moment it's a pretty big trend that I won't be following. Yes, make-up is fun and sometimes I have to put more on than I normally would but I really prefer to stick with the "fresh" look. Here is my everyday, quick fix; get out the door "natural" approach.
Cle de Peau  No question, this is an expensive concealer. But it is a great investment. One tube lasts me easily a year. And trust me I use a lot! It goes on creamy and smooth, which I love since my skin runs on the dryer side. The coverage is great. I pray they never discontinue this stuff because I'm committed.
Maybelline Fit Me Concealer  This is a fabulous drugstore find. It's cheap and cheerful and it does the trick. It's creamy and the coverage is great without being cakey. I find that it reflects the light which is a bonus when you are dealing with dark circles. And the variety of shades they have is a definite plus. If you run on the oilier side then I would suggest Maybelline Cover Stick  Not only covers your dark circles it's great at covering blemishes too.
Honest Cream Blush  I've just been turned on to Honest Beauty products and I love them. I don't know about you but blush just makes me look and feel better. And this is a good one! The first application goes on light, which is sometimes all I need just to put some life back in my face. But what's great is you can layer to the desired level of rouge you'd like. Plus it stays on! I normally have to reapply blush as my skin eats make-up. But not with this one.
I've never had to rely so much on make-up like I do now...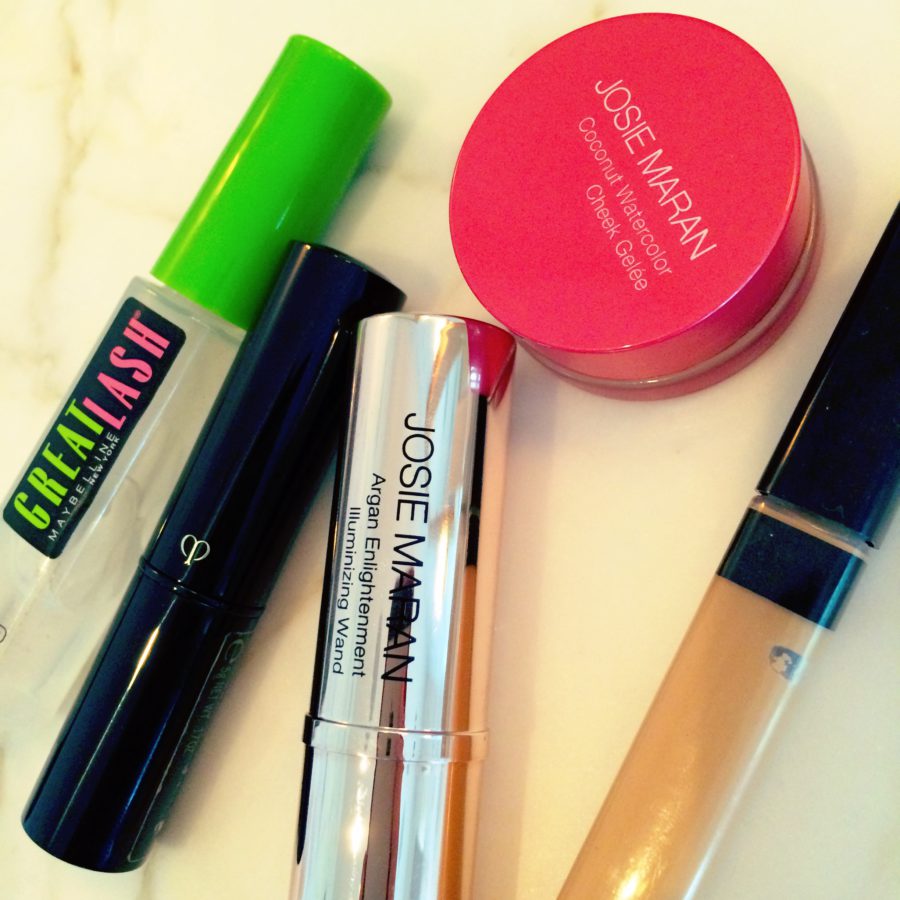 Josie Maran Argan Enlightenment Illuminizing Wand  I don't use this one all the time but if I'm feeling like I need an extra pick-me-up I add this to my cheekbones and down the base of my nose. It does exactly what it says. It illuminates your skin and reflects the light. But you won't go all glittery which I really can't stand. I'd say it's more of a sheen.
Maybelline Clear Mascara  I don't wear mascara during the day but I do use this clear mascara to brush my brows. I have a thicker brow and this is great with setting them in place for the day.
Evian Spray  This is one of my many old school modeling tricks. After your make-up is on, do a quick all over light mist. This not only sets your make-up it gives you an all over dewy glow.
Did you get melasma after your pregnancy? What do you do to cover it? What's products can't you live without?
Emma xx

beautymake upmust-havesno fussshop