Food
Garden Tomato Bounty…
My vegetable and herb garden is overflowing with summer bounty. I'm a bit in shock to say the least! We have tomatoes coming out of our ears! Not bad for a city girl and her first attempt at having a garden. Even if you're not green thumbed, I'm sure you can appreciate the beauty of summer fruits and veggies. Tending to a garden definitely takes some work, but I love showing the girls where their food comes from. Our garden also is a bit of an additional incentive for Mabel to try some of the veggies we are growing.
I'm not a super chef by any means, but I do alright and the simpler the recipe the better! Who has time as a busy parent to prepare incredibly complicated meals. Overall, I believe in healthy eating, so I'm beyond elated to be able to enjoy all the yummy goodness my garden has provided. But what does one do with the influx of garden tomatoes? Make marinara and freeze it of course!! Super simple and goes right along with my number one healthy eating tip which is to be prepared. It is SO much easier to eat well when you surround yourself with healthy and wholesome options.
What I love about having marinara sauce on hand is that you have a viable base for tons of different recipes from simple spaghetti to lasagna. You can find thousands of different recipes online , even the basic tomato sauce  of the amazing Mario Batali. My recipe is incredibly humble AKA don't judge me, people. LOL!! But, I promise it tastes delightful. Honestly, it is the gorgeous garden tomatoes that do most of the heavy lifting. As a quick sidenote, marinara sauce will keep one week in the fridge or six months in the freezer.
It is SO much easier to eat well when you surround yourself with healthy and wholesome options...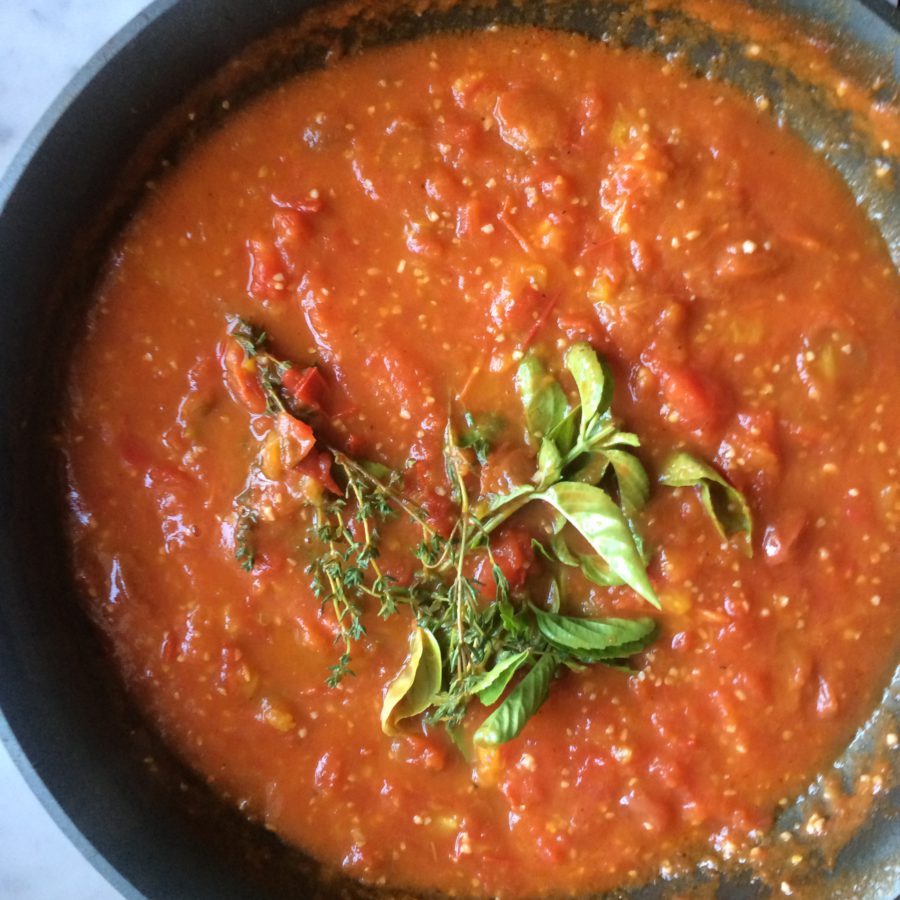 Marinara Sauce
6 cups diced tomatoes
6 cloves of garlic minced
1 to 2 large sprigs of basil
3 sprigs of fresh thyme
4 Tablespoons olive oil
Salt & Pepper to taste
Heat saucepan on medium heat and then add olive oil. Once olive oil is heated, add garlic and saute' till lightly browned. Add tomatoes. Bring to a boil and then turn down heat to a simmer.  Add sprigs of basil and thyme. Stir and cook until thickened.  Be patient for your sauce to cook down and thicken.  That's where the magic happens!  If you are in a hurry, you can always add a bit of tomato paste to thicken. Let sauce cool. Remove basil and thyme. You now have a couple of options or you may decide to do both steps. If you have a food mill, you can can simply use that and call it a day. Another option is to put in your food processor or high powered blender and pulse a few times and then use a strainer remove any tomato skins and seeds. The last step is to place your marinara in a freezer safe container. I like using Ziploc bags so I can lay them flat in the freezer to save space. It also makes it quite easy to just break off what you need when you decide to use.
We had a great summer on the west coast. Now we are getting back into the swing of things back home on the east. The summer has flown by so fast! I truly hope you and your families enjoyed summer as well. Who out there has a garden?  What are your favorite recipes to make with your summer fruits and veggies?

farm to tablefoodrecipetomato