Food
Holiday Recipe Swap with Molly Sims…
Okay, I have never been afraid to admit that I'm not the best cook, however, around the holidays who doesn't want to spread their culinary wings a bit?! The holidays are also a time for honored traditions, which we will explore further next month, but for right now, we are talking turkey time!! Specifically, recipes for your Thanksgiving table.  As a Mom who built this site on the premise of sharing information with other parents, I thought it be fitting to have a recipe swap for the holidays. So I asked my friend and SuperMomma, Molly Sims , to share with us one of her favorite holiday recipes. Molly is from the South, so I had a good feeling whatever recipe she sent would be incredibly delicious and possibly topped with mini marshmallows. I was right on both accounts! This dish is beyond yummy and I think it might become one of my family's holiday traditions as well. Be gone cold jelly cranberry sauce from a can… There's a new sweet and tasty dish in town!!
So I asked my friend and SuperMomma, Molly Sims, to share with us one of her favorite holiday recipes...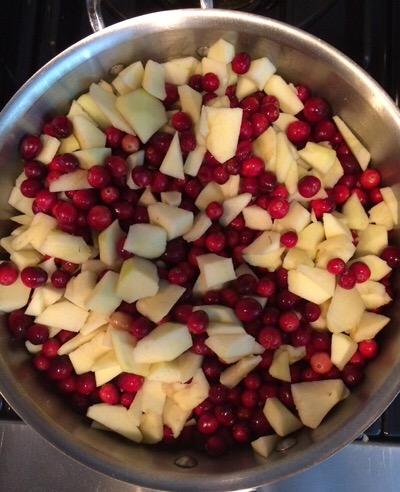 Hot Cranberry Salad
Ingredients:
1½ lb. fresh cranberries
4 large Golden Delicious apples (peeled and cubed)
1 ½ cup brown sugar
1 Tbsp Cornstarch
1 Tsp Cinnamon
½ Tsp ground cloves
1 oz. butter
3 cups marshmallows
1 cup chopped walnuts
Directions:
Preheat oven to 375 F.
Melt 1 oz. of butter in pan or spray with Pam.
Add cranberries and apples to the pan and sauté until cranberries start to pop.
In a separate bowl, mix all other ingredients except for walnuts.
Add the mixture to the pot and stir.
Add the walnuts last and cook on medium heat for 5 to 6 minutes.
Pour the contents of the pot into a Pyrex dish sprayed with Pam, and bake for 25 minutes.
Top with marshmallows and broil until crisp (approximately 2 minutes, being careful not to burn.)
This recipe is perfect for Turkey Day and ALL holiday season long. An excellent dish to take to any holiday potlucks or functions. Super yummy and easy to make. You really can't go wrong.
What is one of your favorite holiday recipes? Is there a story to go along with your recipe?  How do you involve your little ones in the kitchen during the holiday season?
Emma xx
foodholidaymolly simsreciperecipe swap