Create
Last Minute Halloween…
Trick or Treat! Happy Halloween to you and yours! The last couple of weeks I've been trying to lay the groundwork for keeping Halloween a little less sugar crazed with some healthy options for snacks , tasty Halloween-themed cookies  as well as sharing my trick or treating non-candy giveaway loot . But now the grand event, Halloween is here. What do you do if you are lacking a costume as the clock ticks down to trick or treat go-time? Perhaps you had no intention of dressing up, but then realize all the other parents in your trick or treating posse are going to ghoul it up. Or maybe, your little munchkin wore their costume to the school carnival and destroyed it beyond recognition from eating a blue snow cone or whatever. Or worst still, your pride and joy decides they are no longer fond of their costume because it's too itchy, too hot or just too much.
Never fear my friends, the #NoFussMama has got you covered! They always say, where there is a will, there is a way, and there is no reason to let a little thing like a costume stop you or your kids from having a super FAB Halloween. For starters, I made a Last Minute Halloween Costume Ideas  Pinterest board . This is loaded with a bunch of different ideas that are great for last-minute or anytime you need a costume. My Pinterest board is basically a pictorial version of the ideas (clothes and make-up) I list in this post and definitely worth checking out.
My first rule for last minute costumes is dig through your closets and see what you have to work with. Take a quick gander at that giveaway pile. Many kids have a "dress-up" drawer which is a perfect zone for finding something great on the fly. If your child plays sports or takes dance class, don't be afraid to re-purpose that tutu! Desperate times call for creative measures. I've said it before and I will say it again. The dollar store  is a great place for Halloween décor as well as your costume needs. Make-up is one of my top tricks for last minute costuming. A little makeup can change everything. Trust me, you will feel much better ruining an eyeliner you got at the dollar store, rather than a wasting treasured prize from Sephora.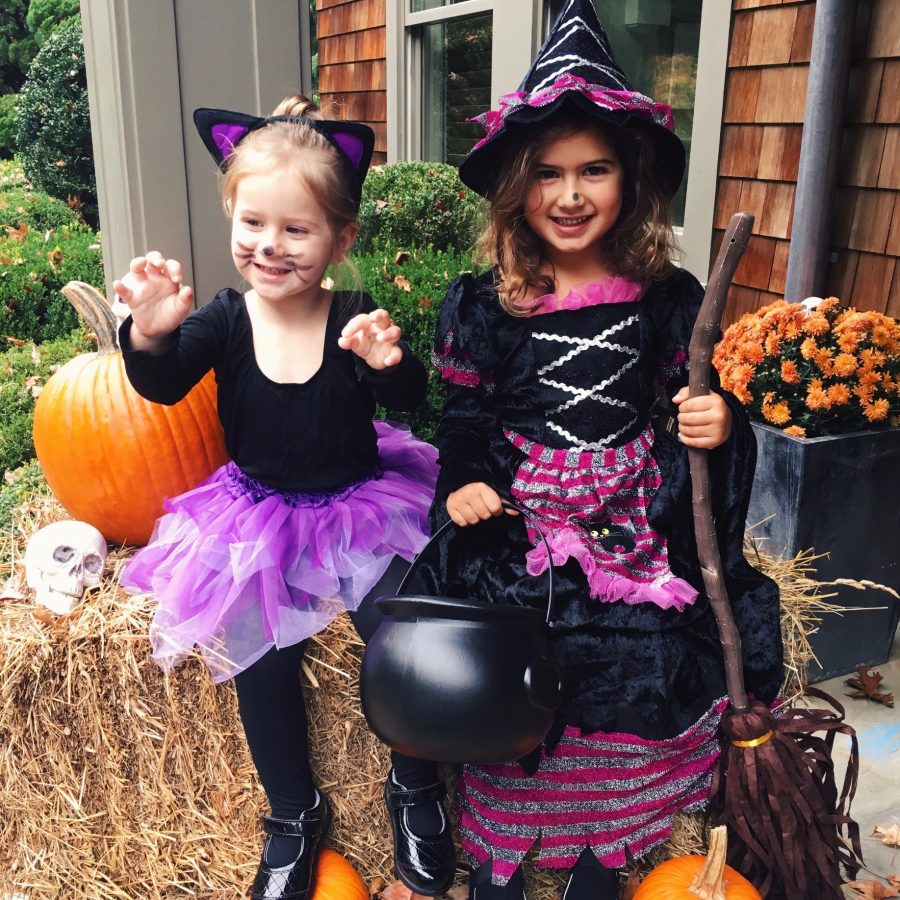 My first rule for last minute costumes is dig through your closets and see what you have to work with...
Here are my last-minute costume quickies:
Kitty Cat:  My go-to. Dress all in black. Take an old headband and add some cat ears to it with a bit of cardboard and felt. Use black eyeliner to add whiskers and nose. For a lil extra kitty love. Outline your lips with the black liner and fill in with red lipstick for a pop of color. I've put some Meow-riffic makeup tutorials on my Pinterest board.
Zombie: The Walking Dead is so in vogue right now and whipping this costume together couldn't be easier. Take your child's most beat up play clothes and put them through the ringer! Use scissors and make them tattered and torn. Take shoe polish, black and brown markers to make the outfit look like its literally been drug through the mud (or graveyard as the case may be). A dusting of powder on the face, topped with dark eye shadow around the eyes to give an all over un-dead glow and you are good to go.
Crazy Cat Lady: Now I think this genre of costume used to be called "the sleepy housewife", which sounds just as awful, however, in last-minute costume land this could be an easy home run. You just need a robe, slippers, and disheveled hair with curlers. If you are working the cat lady angle, then attach a plethora of beanie baby kitties (or stuffies of your choice) all over the robe and you'll be a feline acquisition professional in no time.
Cowboy/Farmer: Overalls or jeans paired with a plaid shirt, cowboy hat and boots and you are good to go. If you don't have the boots, don't worry. I promise nobody is looking at your feet.  No hat? Put hair into braided pigtails. No plaid shirt? Tie a scarf around your neck. There are many ways and variations to make this costume work. A really stellar idea in this vein is dressing like a Scarecrow. Plaid shirt, jeans with a straw hat is all you need along with a bit of make-up love. Hit my Pinterest board for specific makeup directions.
Hippy Chick or Disco Diva: Do a little retro closet diving and locate clothing that is in sync with the 60's or 70's. Anything sparkly and that eye shadow palette you should have thrown away a few years ago and you are ready to boogie at Studio 54. For the sixties, bring out some long beaded necklaces. Anything fringe is IN and for makeup, use your black eyeliner to draw a peace sign or flower on your face. Complete the flower by filling in the petals with a nice shade of lipstick. Peek my Pinterest board for a great hairstyle idea that will have you Woodstock ready.
Whatever your costume may be, may your trick or treating routes treat you kindly! Here's to no sugar crashes and meltdown free Halloween. Steal a piece of candy (or two) for yourself when they aren't looking. Please share any of your last-minute costume ideas in the comments below. One can never have enough Halloween tricks up your sleeve.
Emma xx
budgetcostumesDiyhalloweenno fuss