Must-Haves
My Newborn Essentials…
When you receive the news you're about to become a first-time mom, I think it's your right of passage to go nuts and order/register anything and everything you think you might need. You think you need a swing, get it. You think you need that special space age bathtub, get it. You think your baby will look so cute in that 3 piece outfit, you get it! I did it and had so much fun doing so. It's truly a special time.
Now I'm not here to burst anyone's bubble but if I can help you save a buck or two it would please me. So when I discovered the stuff I thought I really needed compared to the stuff my baby really needed was a huge difference. Mabel hated the swing. Mabel hated her cool space age bath-tub and she hated being put in a complicated 3 piece outfit. Not to mention me fidgeting nervously trying to get it on her.
Second time round I downsized, big time. Actually, to a fault. The night we brought Evelyn home my Mom looked around and said "Em, where is all the baby's things?" I took it down to the bare bones.
Here were my newborn essentials, baby number two style:
I loved this bassinet. It was light and easy to move around. When my husband and I could actually sit and have a meal together we would move the bassinet with Evelyn next to the table. When we traveled it came apart and folded easily. I didn't have a nursery set up for Evelyn when she came home as she slept in our room. So this was her crib for her first 3 months.
I know there's other breastfeeding pillows on the market but this was the only one I used and really liked. I found it comfortable for my body type and it really helped me to get my babies in the right position to nurse.
I didn't really swaddle Mabel all that much but Evelyn loved it. And these swaddles have been washed again and again and they only get better with age. Even though we don't swaddle Evelyn anymore we still have use for them.
Both my kids were happy spitters . Evelyn still is to a certain degree. They have both lived in bibs for the first six months of their lives. And we needed a bit of protection from those happy spitters so those burp cloths came in handy. I couldn't go anywhere without them. They are great quality and still going strong wash after wash.
Its your right of passage to go nuts and order/register anything and everything you think you might need...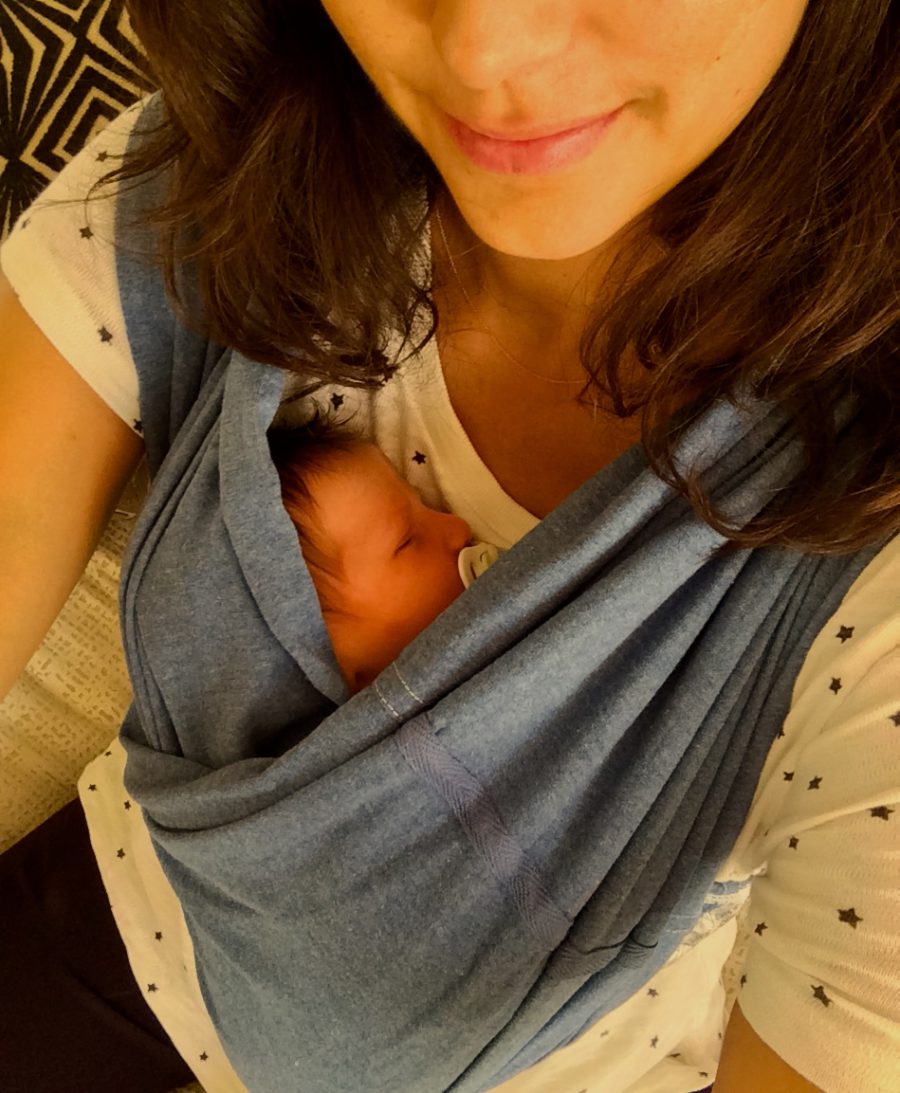 The Baby K'tan is like a sling/wrap/carrier all in one. But without loads of annoying fabric to wrap around you. It was my life saver. I started using it with Evelyn within the first few weeks. It was especially useful when I needed my hands free to take care of Mabel. For a moment this worked as a great way to ease Evelyn's witching hour too. I'd get her all snug on me, stroll around and it really calmed her.
These are just soft and yummy. I used the all-in-one PJ's for Mabel the first year and Evelyn is following suit. It's easy to get on and off, very comfy and great quality. My babies did not have the patience to play dress-up so they (and I) love the low maintenance of it all.
I always needed to check the temperature of the bath water. I like my bath hot (when I used to take them) so I'm not a good gage. For a baby I was told 99 Farenheight/37 Celsius. So this gadget came in handy and soothed any doubt I might have had in my mind of the water being too hot.
I know the sound machine is controversial but I've used it with both my kids. We travel a lot so new sounds in unfamiliar settings will wake them. I think when I turn it on for them at naps and bedtime it's just another helpful cue that's its time to sleep. But let's be real, it's a cue, doesn't mean they are falling straight to sleep when they hear it. I wish! That's another blog entry to come. But once they are asleep I think it helps keep them asleep. And that's my goal.
Maybe you're wondering what I might have done with all those so-called must-haves that I wasn't able to use first-time-round? Luckily, there's  Baby 2 Baby  . Take a look at their site. They are a great organization and I really like what they do. And if you're on the east coast Room to Grow is a great organization that you can donate your lightly used items to.
What were your baby essentials? What did you think you really needed but ended up not using because your baby wasn't fond of it?
Looking forward to hearing from you again.
From my home to yours,
Emma xx

gift guidemust-havesNewbornshop