Mamahood
My Virtual Village…
I definitely believe in the "it takes a village" way of thinking when it comes to parenting. Heck, that is a HUGE reason why I started my blog. In the olden days women could share home keeping and child rearing secrets by word of mouth, but now thanks to the interwebs, word of mouth has gone global. Which I'm incredibly thankful for because in those early days of child #1 (Miss Mabel), I felt all kinds of alone in Mamahood land. I'm so very thankful for the interaction with the readers of this blog. I am incredibly humbled and appreciative for all of your tips, tricks, recipes and even a lil bit of commiseration sometimes 😉  Being a mom isn't always easy, but knowing that some of our parental hurdles are shared experiences makes it a bit better, no?! So today I'm discussing my favorites in my "virtual village." I'm sharing some of my favorite apps, websites and blogs and as always I would love for YOU to share your favorites in the comments below as well. This Mama is always looking for new resources and I know other readers would appreciate the information as well! In the future I will definitely do my favorite parenting books  edition.
No parenting favorite website list of mine would be complete without Pinterest ! The inspiration for many of our crafting projects  and recipes. If I have a cause to craft, Pinterest will have about 1,000 different age appropriate crafts at the ready. Not everything comes out as perfect as some of the pins suggest, but you know this mom isn't afraid to share a good #PinterestFail .
Weelicious  is a super duper awesome site dedicated to fast, fresh and easy recipes. What makes this #nofuss Mama's heart sing is the search tab at the top of the site where not only does it ask you,  "what do you want to cook today" but you can also specify  "who is it for"?,  in which you have the option to choose from babies, toddlers, school kids, or families. What an amazingly helpful search option!! I wish all my recipes could be filtered this way. You can even further narrow down your search by food group, meal, allergy free (gluten, dairy, egg, nut) and vegetarian and vegan. A comprehensive recipe resource where you can really dial-in your specific needs.
Being a mom isn't always easy, but knowing that some of our parental hurdles are shared experiences makes it a bit better...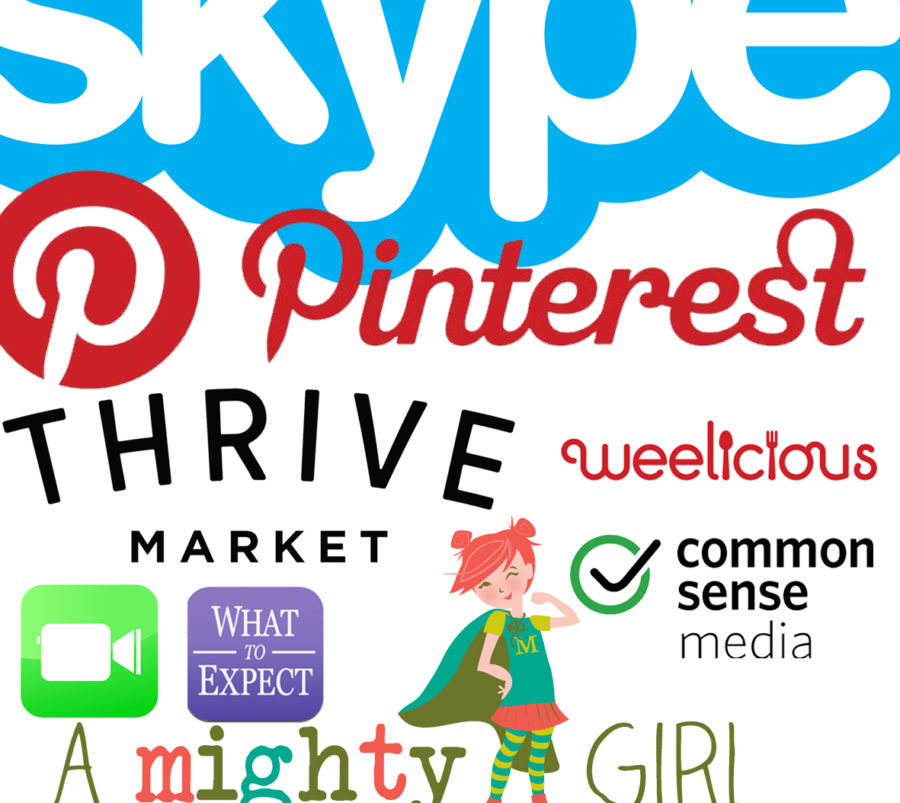 Ever wonder if a movie, tv show, book, website, is appropriate for your child? Meet my new friend, Common Sense Media , a great website for parents to find out the scoop on most forms of entertainment. All you have to do is type in your movie, book, website de jour and Common Sense will do the heavy lifting for you. For example, I have very fond memories of the movie The Goonies and was wondering when I should introduce such fine film noir to my kids. After a quick search  I was reminded of all the bad language 😉  and realized that Goonies is going to have to wait for a few years! What is really cool at the bottom of each review there's a few great alternative movies to choose from. If you are looking for age appropriate entertainment there is an entire section of their top picks where you can find the best of movies, books, apps, games and websites.
I've been a fan of the What to Expect App  since I first was pregnant with Mabel. As newly pregnant Mamas can attest, it is literally a whole new world! Based on your due date you will receive personalized content, health information, news and updates throughout your pregnancy. Once your bundle of joy arrives, you'll get answers, advice, and guidance as you navigate life as a new parent. I can say with all certainty this app helped me not harass my obstetrician every five seconds with questions. Not that an app or Dr. Google can replace a real physician's advice, but you get my drift.
As a Mama of two lovely girls that I want to nurture and inspire to grow into incredible women, I was quite taken when I came across this wonderful site called, A Mighty Girl . They describe themselves as The world's largest collection of books, toys and movies for smart, confident, and courageous girls. To this I say, "Yes please"!!! A Mighty Girl sells some of our usual girlie suspects like Elsa (whom we adore), but you will also find an incredible assortment of engaging books and treasures on so many amazing women. Jane Goodall  and Rosa Parks  are just two examples. This is the perfect site to bookmark the next time you are looking for gifts for the girlies in your life.
Thrive Market  is my go-to website for organic, healthy food delivery at 25%-50% off. Say goodbye to running around to several markets for the best prices and products. Just take a peep at their site yourself and price compare. Delivered to your doorstep. It's almost like you have a virtual shopping assistant!
You can sign-up, get shipping for $1.95 on your first order AND a jar of organic coconut oil here . Side note: Thrive's blog is also really great for recipes.
Skype  & Facetime  fall into the same category of video calling so I will share them together. If part of your village lives far away, there is nothing better than getting a little face to face action over the virtual airwaves. Grandmas and Grandpas and all of your out of town relatives and friends can see and hear the latest and greatest adventures from your littles in real time. If Daddy is out of town working, we are big fans of staying in touch this way.
Ok now it is your turn! Please tell me any of your favorite websites and apps that you find helpful as a parent. I would LOVE to know.
Emma xx
blogmamahoodParentingSocial Media