Food
No Bake Energy Bites…
Happy National Peanut Butter Lover's Day!
We had a snow day a few weeks ago and school was canceled. On days like these, when the snow is dumping there's not much you can do but stay indoors with the kids (#PanicMode.) In the olden days, (sans young children) my husband and I would have probably curled up by a fire, watched a movie or read a book. Well, these days things are… different, but in a good way of course 😉 One of the things my girls like to do is help out in the kitchen. It's a go-to activity on days like these where we aren't able to leave the house.
I've been eyeing these no bake recipes for some time now. Anything that I can do without having to turn the oven on, I'm all about. Plus, I'm Always looking for snack options in my house, as snacking is my girl's favorite past time . This recipe is totally kid-friendly. No knives just adding ingredients and stirring.
One of my tips when it comes to " Kids in the Kitchen ," is have everything you'll need out and on hand. Trying to keep an eye on the babe's while pulling out bowls and ingredients at the same time is a total juggling act that I'm not good at.
Anything that I can do without having to turn the oven on, I'm all about...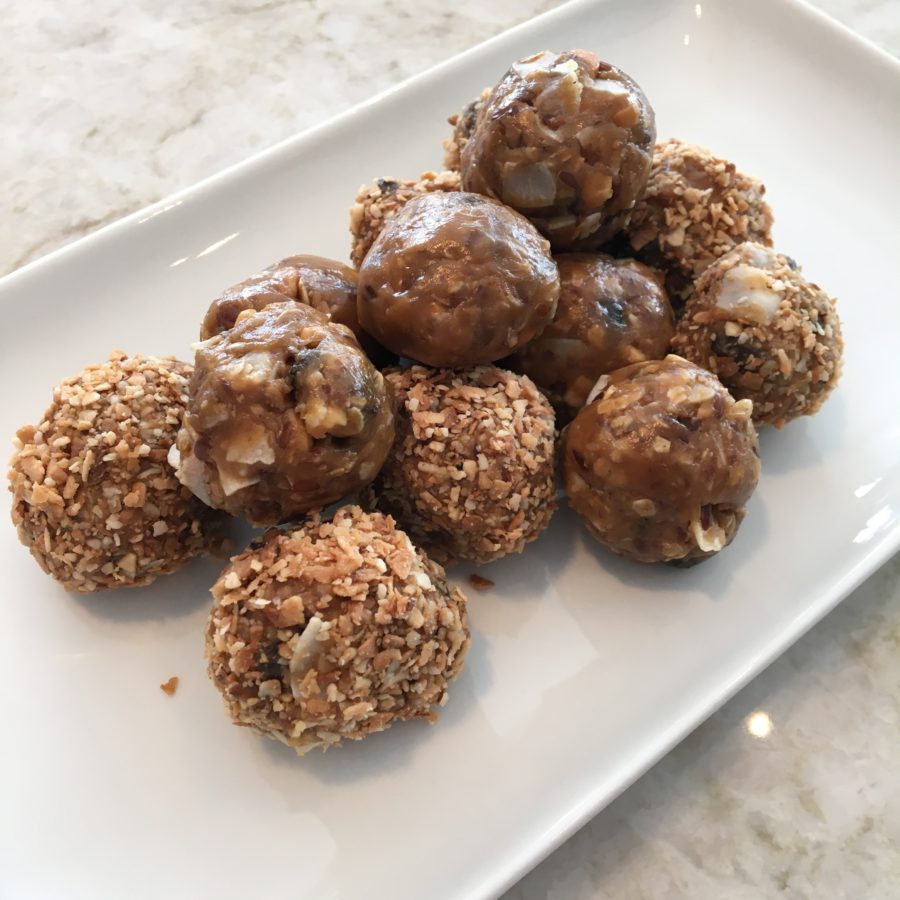 No Bake Energy Bites
Yield 12
| | |
| --- | --- |
| 1/2 | cup peanut butter. I like the crunchy one (or substitute with almond butter) |
| 1/3 | cup raw honey or maple syrup |
| 1 | teaspoon vanilla extract |
| 1/4 | cup shredded coconut |
| 3 | tablespoon quick oats |
| 2 | tablespoon ground flaxseed |
| 1 | teaspoon chia seeds |
| 1/4 | teaspoon cinnamon |
| 1/4 | sea salt |
| 1/4 | raisins |
In a large mixing bowl add all your wet ingredients. Peanut butter, honey (or maple syrup,) vanilla extract. Mix till combined. Add all your dry ingredients to the wet and mix well. Then fold in your raisins.
If you find your mixture is too dry and won't stick together– add a few teaspoons of water. If the mixture is too wet, you could add more of the shredded coconut.
I dip my ice cream scoop in water and then into the mixture– which will give a good size ball. The water will help the mixture not stick to the scoop. Roll in your hands (you'll want your hands damp for this too.) Place on a baking sheet and refrigerate for 30 minutes.
I store them in my glass food container  in the refrigerator. I would keep them in there for about 5 days. But by the time the fifth day has rolled around, we have already finished them. They are Good!
Do you have any no-bake recipes to share? Do you have any fun easy recipes to share that you can get the kiddies involved in?
Emma xx

healthy optionsKidsNo bakeSimplesnack ideassnacks