Food
Nut-Free Snack Bars…
If you haven't noticed, most schools and camps are now nut-free. Luckily for us no one in our household is allergic to nuts, but we remain very conscious of the fact that it is a very serious condition and how harmful it can be.
The problem I often come up against is finding nut-free snacks for the girls to take to school. There are so many snacks on the grocery shelves, and it seems like almost all of them contain nuts!
A big favorite in our house, which are also really easy to throw in their on-the-go snack bag, are bars made from granola to rice. But the ones we have on rotation in our home all contain nuts and a lot of sugar, which I'm not really keen about. So, I've been frantically looking for recipes to replace them and discovered that it's very easy to make my own bars. And the added bonus, of course, is I can swap out the nut filling for anything I want. What I also like about it is I know exactly what ingredients I'm using and I can then feel good about what my kids will be consuming.
And just think about how much you'll save from not having to buy boxes of these bars when you can easily make them yourself for a fraction of the cost!
Today I'm going to give you two recipes. One that is a little on the "healthier" side and another that is a sweet treat. I think it's all about balance. And let me tell you, both are delicious! These aren't sugar-free recipes but I'll be waiting for your comments to tell me how to make them! 😉
The Chewy Granola Bar…
Equipment: Large mixing bowl, wooden spoon, 9×13 brownie pan, measuring spoons and cups
Ingredients:
| | |
| --- | --- |
| 2 | cups of oats |
| 2/3 | |
| 1 | cup whole wheat flour |
| 1/2 | tsp. baking powder |
| 1/2 | tsp. baking soda |
| 1 | tsp. cinnamon |
| 1 | tsp. salt |
| 1 | tsp. vanilla |
| 1/2 | cup raw organic honey |
| 3 | tsp. coconut oil |
| 1/4 | cup raisins (or you can always leave these out but I find it adds a little extra moisture) |
Preheat oven 325 Fahrenheit
Throw all your ingredients into a large mixing bowl and incorporate all dry and wet ingredients together. You might find that not all the oats and coconut sugar combine in with your coconut oil and honey. Don't worry. It'll all melt together and condense in the oven. But use your fingers to work through the clumps and incorporate it all as much as possible.
Grease your 9×13 pan with coconut oil.
Empty your ingredients into your pan and evenly press it into your pan. As I said, your dough will be dry, just pack it all down using your fingers.
Place in the oven for 15 minutes until you see the edges start to turn golden brown. Don't over-bake or you might find your bars will be a little on the dry side.
Let cool. Put a knife around the edge to separate it from the pan. You should be able to flip it over and it will slide out.
Cut into bars or squares and store in Tupperware or Ziploc bags.
Up next is another delicious nut-free option by Black Jet Baking Company . They are a small San Francisco baking company committed to making delicious, fun treats and baked goods. The Black Jet way is to create nostalgic treats the way you remember or how you always wanted them to taste.
The problem I often come up against is finding nut-free snacks for the girls to take to school...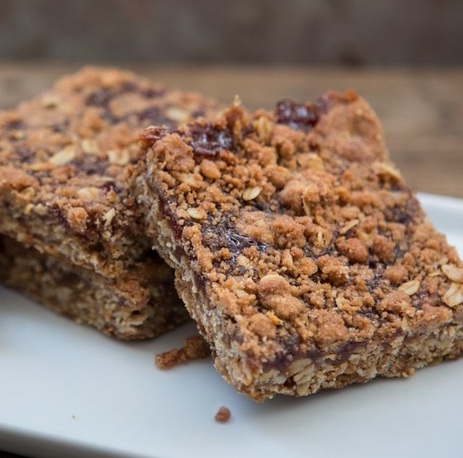 Jam Bars
Equipment: Large bowl, spatula, 9×12 brownie pan, measuring spoons
Ingredients:
Base
| | |
| --- | --- |
| 18 | oz. melted butter |
| 2 1/4 | cup oats |
| 1 | cup + 2 tbsp. brwon sugar |
| 1 | 1 cup + 2 tbsp. flour |
| 1/2 | tbsp. salt |
| 1/2 | baking soda |
Method:
In a large bowl, mix all ingredients except for melted butter.  Work with your fingers in the mixture to ensure there are no lumps in the brown sugar.
Using the rubber spatula, quickly fold in the melted butter.
Dump this mixture into your brownie pan and press evenly with your fingers and hands.
Bake until light golden brown, about 15 minutes.
Once cooled (about 20 minutes) spread your jam evenly over the oat base.
Add your crumb topping (recipe below) evenly over the top.
Bake for 20 more minutes till the crumb topping is golden brown.
Crumb Topping
Equipment: Kitchen aid, paddle attachment, bench scraper, measuring spoons
Ingredients:
| | |
| --- | --- |
| 12 | oz. cold, diced butter |
| 2 | cups flour |
| 2 | cups brown sugar |
| 1 | cup oats |
| 1/2 | tbsp. salt |
| 2 | tsp. cinnamon |
Method:
Place all dries in standing mixer bowl.  Pulse the mixer to incorporate.
Add butter and turn mixer to low.  Mix until the crumb topping comes together in little clumps.  This should take about 3 to 4 minutes.
HOT TIPS!
Be careful not to over-mix.  It can go from perfect to a solid mass if you aren't careful!  I like to take a little break when I make the crumb topping and stand right by the mixer.
Be sure to use nice and cold butter.
Easy to make by hand as well!
What nut-free snacks do you pack for your kids? I'd love to know! Any sugar-free bar recipes out there to try?!
Emma x

nut-freerecipeshopSimplethrive market