Beauty
Our "Skinimalist" Summer Bodycare Guide…
To some of us, summertime is the season of sun-soaked glow, seas, sand, and savory cocktails. But it also comes with sunburns, sweating, and a host of skincare concerns in real life. And that's why it's crucial to give your skincare regimen an overhaul as the temperature leaps.
We know a broad-spectrum Sunscreen is essential for summer, but it doesn't end there. To keep your skin hydrated and glistening this humid season and beyond, you'll need to add some fantastic offerings to your beauty arsenal.
At CocoBaba , our catchphrase is simple; less is more, always.
Here are some of our favorite summer body-beauty rituals that'll leave your skin with that summer time glow:
Lift dead skin cells with a manual scrub
As expected with warm weather, your skin accumulates more dirt, gunk, and sweat during summer. Failure to exfoliate your skin will leave your complexion itchy, flaky, and dull. So, cop a jar of our rejuvenating Coconut Oil Scrub , and catapult your senses into a tropical paradise as you manipulate dead skin away.
Ground coconut shells gently remove old cells to reveal radiant complexion while nourishing apple seeds boost collagen production, leaving your skin firm and supple. While the coconut oil will leave that beautiful glowy sheen on your body.
Lock in moisture.
The burning summer sun can strip your skin of moisture, causing damage to your skin barrier. When the temperature rises, applying coconut oil keeps the skin hydrated and fresh. Topical use of a lipid-based ingredient like coconut oil strengthens the lipid barrier of the skin. Lauric acid , predominantly found in coconut, has anti-bacterial and anti-fungal properties.
Cure thirsty skin by layering our Coconut Body Oil immediately you step out of the shower. The oil traps in moisture, preventing transepidermal water loss.  Our 100% organic coconut oil takes care of the skin like no ones business. Kiss dry, inflamed, and tired skin goodbye after each use! For an illuminating effect, use this body oil after exfoliating with our scrub.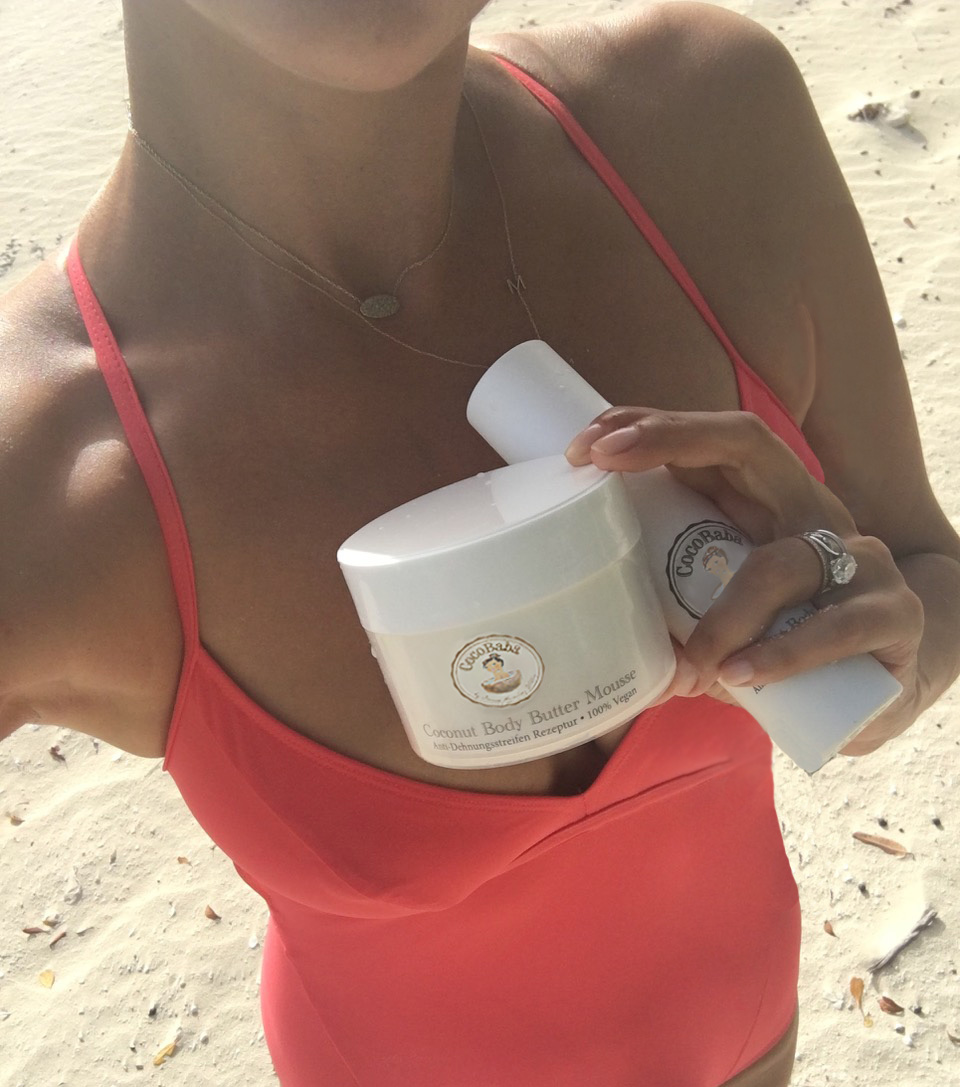 Pamper your skin
This period is the best time to give yourself an at-home spa experience using our Coconut Body Mousse aka our "miracle in a jar." On the hotter days when you want your skin to feel and look its best, this fluffy whipped moisturizer is your best bet. The calming and cooling effects of this body souffle are otherworldly. (*Serious warning,* you'll be hooked after your first try)
Organic jojoba oil in this formula gives a triple threat of enhancing moisture absorption, fighting free radicals, and controlling oiliness. Chia seed oil keeps the skin hydrated and vibrant round the clock. Nutrient-dense sunflower oil unclogs pores, nourishes, and soothes the skin. Our superstar ingredient, coconut oil, refreshes and regenerates the skin – come sun and shine.
For this season, our "skinimalist" skincare routine is all you need to keep your complexion healthy and youthful. More icing on the cake? Our 3-step summer skincare bundle is a steal plus ships for free.
These hidden gems we've passed unto you will make your skin stand out in a crowd.
Cocobabasummertime