Food
Pecan Bar Recipe…
This recipe is an oldie but a goodie and when I say goodie, I really mean awesome 😉 It's easy to make, tastes delicious, and the finished product looks like it came from an upscale bakery. Think of it as a WAY more refined pecan pie. These pecan bars are definitely a crowd favorite and consider them goners if they're your contribution to a neighborhood cookie exchange. What is even more super about this recipe, is that they are ideal for making with your kids, too. Last week, I talked abouthow to include your kids in the kitchen , now it is time for action.
This recipe is taken from The Great American Baking Book, By Patricia Lousada .
These pecan bars are definitely a crowd favorite...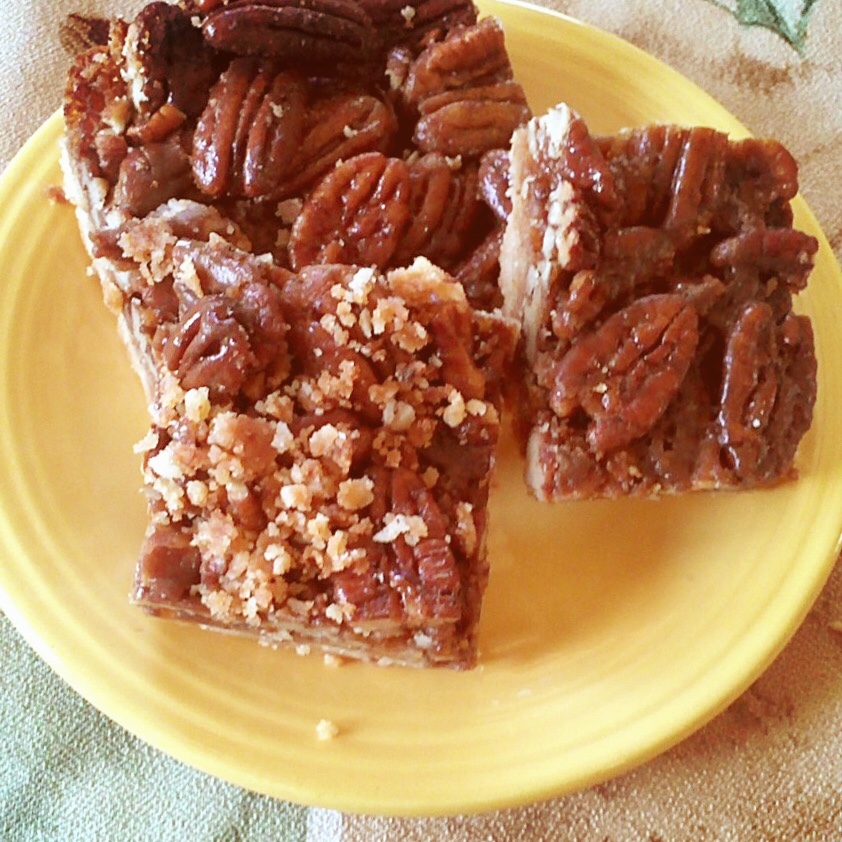 Pecan Bars
Yields 16
Preheat oven to 375 degrees. Lightly grease a 15 ½" x 10 ½"  1-inch jelly roll pan
2 cups flour
pinch of salt
½ cup granulated sugar
1 cup (2 sticks cold butter), cut in pieces
1 egg
finely grated rind of 1 lemon (my personal tweak: substituted orange)
For Topping:
¾ cup butter (1 ½ stick of butter)
¼ cup honey
¼ cup granulated sugar
¼ dark brown sugar, firmly packed
5 Tablespoons whipping cream
4 cups chopped pecans
For the crust, sift the flour and salt into a mixing bowl. Stir in the sugar. With a pastry blender, cut in the butter until the mixture resembles coarse crumbs. Add the egg and lemon (or orange) zest and blend with a fork until the mixture just holds together  (This is the perfect part for kiddos to help) Spoon the mixture into the prepared pan and with floured fingers press into an even layer. Prick pastry all over with a fork and refrigerate for 10 minutes.
Bake the pastry crust for 15 minutes. Remove the pan from the oven, but keep the oven on while making the topping.
Topping:
Melt the butter, honey, and both sugars. Bring to a boil. Boil without stirring for 2 minutes. Off the heat, stir in the cream and pecans. Pour over the crust, spread evenly, return to the oven and bake for 25 minutes.
It's really that easy and your kids will feel quite accomplished to have been part of the holiday baking action.
What is your favorite thing to bake for the holidays?  Is it a family recipe?
Emma xx
foodpecanrecipesnack