Mamahood
Potty Training…
That time is here again! I have to say what a different experience we've had potty training Evelyn (my youngest) versus Mabel. I feel like Mabel was a textbook case. She started showing interest in the potty at the "perfect" age, we bought her a potty to further pique her curiosity. We started a potty sticker chart for her and by age 2 when she was 80% there, we did the 3-day potting training method that sealed the deal.
As for Evelyn, she did not show interest in using the potty. We put one in her bathroom hoping to spark some interest. She tried but was so terrified by the experience she then wanted NOTHING to do with the potty again.
Time ticked on and I heard those inner voices saying, "You better start getting serious about potty training," which kicked in my mommy anxiety mildly.
When people start to say you should be doing this or that with your child, I encourage you to filter out most of those comments. Because really, you know your child better than anyone. You just have a natural sixth sense about your kid (no pun intended.) I knew that when Evelyn was ready to be potty trained she would tell me. And sure enough she did. In fact, it all happened so fast that I'm happy to say I didn't even need to do the 3-day potty method nor a sticker chart. This kid was done with diapers and the rest was history. She'll be starting preschool in September and going diaper free. Mabel was still in a diaper when she started preschool like most kids are.
Here are the potty training must haves that carried me through with both children:
I knew that when Evelyn was ready to be potty trained she would tell me...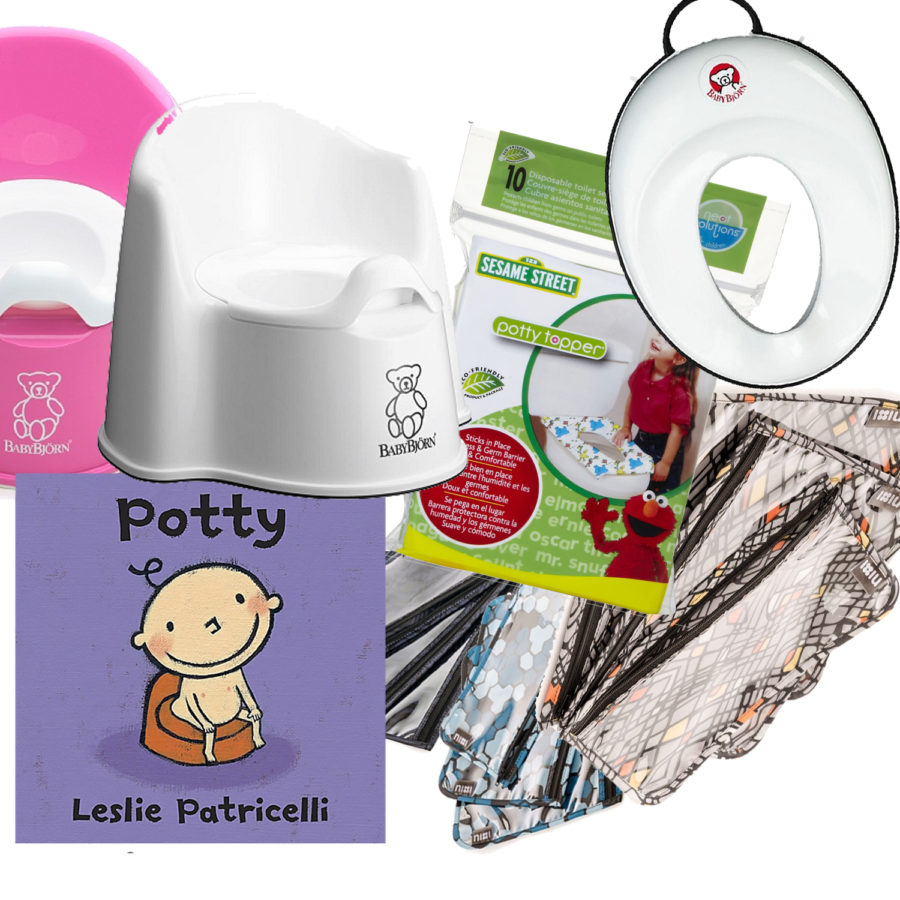 Potty Book : We love Leslie Patricelli books and this one has been a staple in our house for years. In fact, this book will be going in our keepsake box.
Baby Bjorn potty : This potty is slick, simple and dare I say kind of pretty? It comes in a multitude of colors as well.
Baby Bjorn Toilet Trainer : Even though I do love and use our little potty, sometimes cleaning it is almost worse than cleaning a dirty diaper! So I started leading Evelyn to the adult potty but having this toilet topper, which is great for those tiny bums.
Potty Toppers : I am not a fan of public bathrooms but with two kids I have no choice but to make my peace with them. I always bring these toilet seat covers with us where ever we go. I also bring travel size Cottonelle if #2 happens. Besides washing my hands and theirs after the bathroom, I wipe their hands down again once we are out of the restroom because you know they've touched the wall or something after they've washed their hands! I keep all my bathroom supplies for the girls in one of my Bumkins travel packs and we're good to go.
Portable training potty : I have a portable potty in the back of our car that lives there. You just never know if there might be an emergency and the little one needs to go right now—always be prepared like a good Girl Scout.
3-day potty training : If you are looking for a method to potty train, I highly recommend this. It worked for Mabel.
Good luck! Like I said by following Evelyn's lead, it really made the process pretty painless. Bye-bye diapers!
Emma xx
mamahoodmust-havesParentingpotty trainingshopTips