Food
Pumpkin Snickerdoodles…
Halloween is around the corner and we are getting into the spirit big time over here! You saw that Dollar Store wreath I did last week 😉 So with this 3-day weekend that just passed I needed to get my creative juices flowing to figure out what I could do to keep my girls busy. One activity that's always a hit is cooking. When I told them we were making Halloween cookies, they become even more intrigued.
I messed around a little with this old classic recipe by using coconut sugar instead of white granulated sugar. Plus coconut sugar has a relativity low glycemic index. I used coconut oil instead of butter. By simply adding the googley eyes , it made the perfect Halloween sweet treat. And can I say how yummy they are? Moist and chewy with just the right amount of sweetness. Not too sweet which is how I like it for my kids and me.
The key to cooking with kids is have all your ingredients ready to go! Fumbling around with impatient kids gets my cooking anxiety up! Here's a post that should help you tackle this fun activity with some sanity .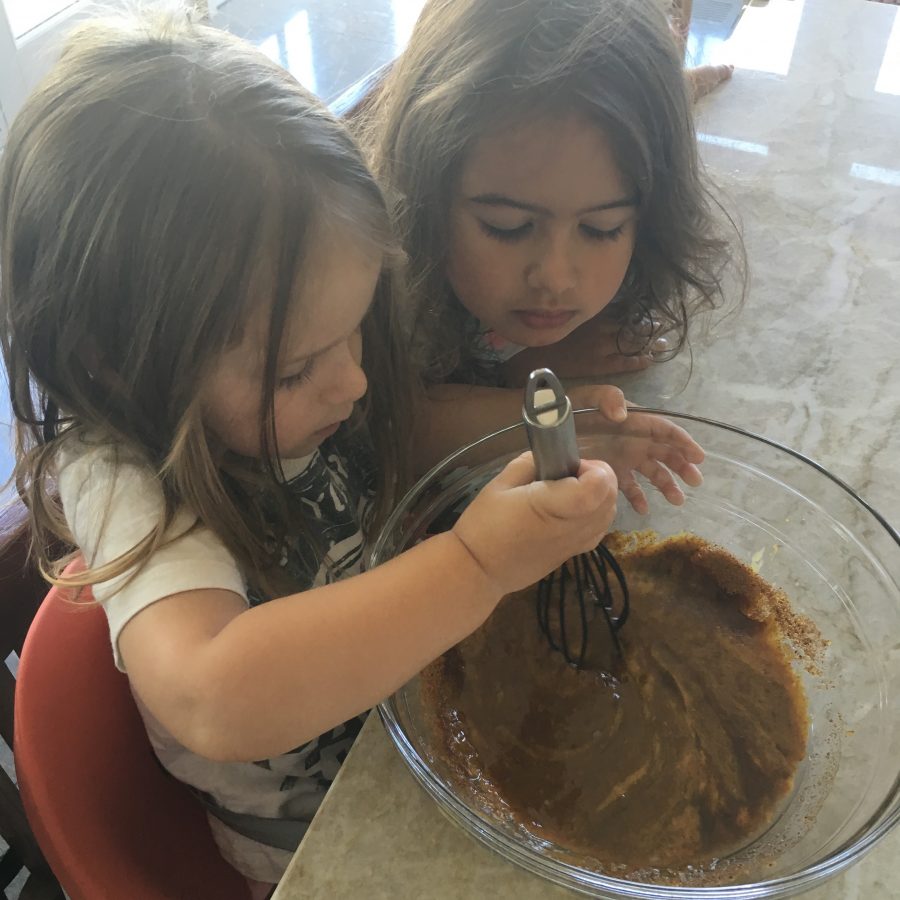 The key to cooking with kids is having all your ingredients ready to go...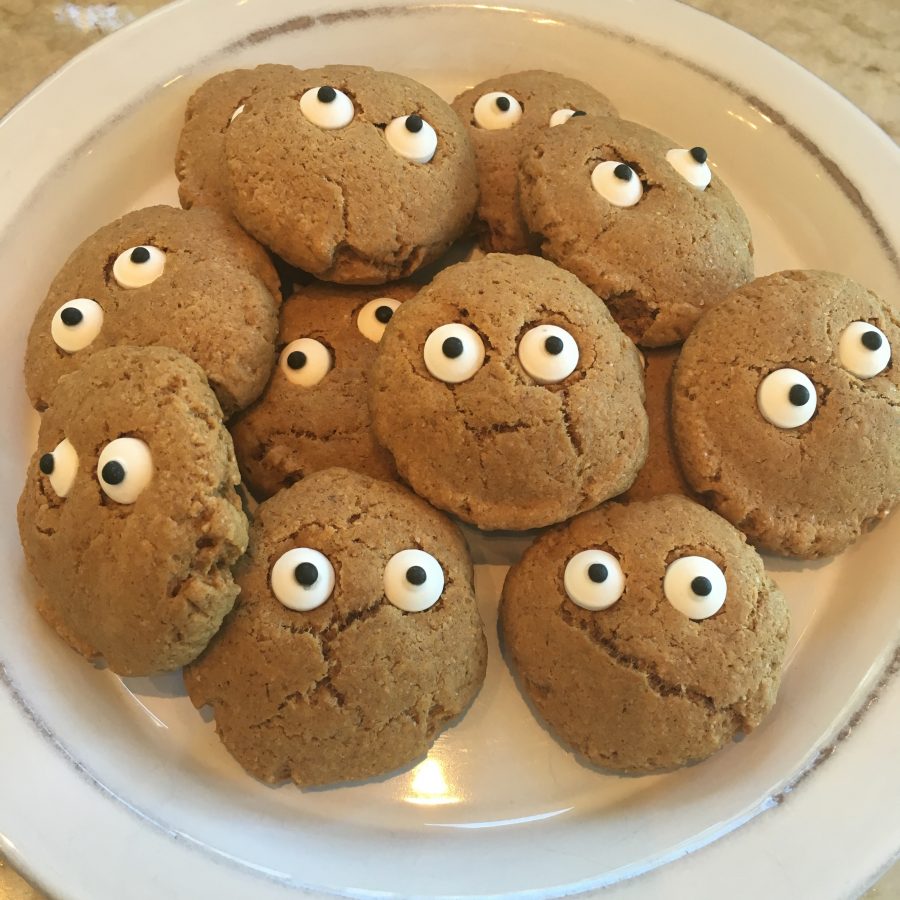 Pumpkin Snickerdoodles...
| | |
| --- | --- |
| 2 cups | Whole wheat flour |
| 3/4 cup | Coconut sugar |
| 1 | Large egg |
| 1/2 cup | Pumpkin puree |
| 1/2 tsp | Pure vanilla |
| 1/2 tsp | Nutmeg |
| 1 tsp | Cinnamon |
| 1/2 tsp | Ground ginger |
| 1/2 tsp | Salt |
| 3/4 tsp | Baking soda |
| | Parchment paper |
| | |
Preheat oven to 350 degrees.
Cinnamon Coating:
Combine your coconut sugar, spices and set aside.
Method:
Add flour, spices, salt and baking soda to a medium bowl and set aside.
Add your coconut oil to another mixing bowl.
Add coconut sugar and egg to the coconut oil and beat well. Add pumpkin puree, vanilla, and mix well again.
Add dries to wets and fold till combined. Do not over mix.
Make small balls of dough and roll into balls then drop and roll in your cinnamon coating to coat. Now truth be told I forgot to drop them in the cinnamon coating (#mommybrain) but they still came out great! But this will add that extra sweetness to a cookie that's not overly sweet. You're call!
Place on cookie sheet lined with parchment paper about 2 inches apart. Flatten with the bottom of a glass (which was my method) or use your hand.
Bake for about 10 minutes, or until slightly golden brown.
When you pull them out of the oven, (this is too hot for kids to handle!) while they are still hot and moist push in your goggle eyes.
Allow to cool for a minute then transfer them to a cooling rack.
This made about 25 snickerdoodles.
Any fun Halloween treats you're starting to make? Pass it on!
Emma xxx

baking with kidscooking with kidshalloween