Create
Shadow Boxing…
I never understood this whole shadow-boxing thing till a friend made the cutest one of my kids for me as a gift for Mother's Day. Seeing one that had special meaning to me—well I finally understood the hype about shadow boxing. You wouldn't believe the 1000's of ideas that came up   on Pinterest . I kept looking at all these mementos that have been collecting dust, stashed in drawers. I'm so happy that the day has come when I can finally do something with them all.
Over the past year, our family has been Broadway bound. I'm going out on a limb here by saying that I've never heard of two family members being on Broadway at the same time? Pretty unique. Rumer—Bruce's eldest daughter, did a 6 week run of Chicago as Roxie Hart. Gosh was she good, with that sultry voice and her moves—cause we all know she has moves! Bruce and I got to see her opening night– something I'll always remember. A few weeks later I was able to bring Mabel to see her sister on stage. It will always be known as "the first Broadway show that Mabel saw." It was very touching for Mabel to go backstage after Rumer's performance so they could have a little sister bonding time and Mabel could show Rumer some new dance moves she had just learnt. Priceless.
I had plenty of mementos that have been collecting dust, stashed in drawers...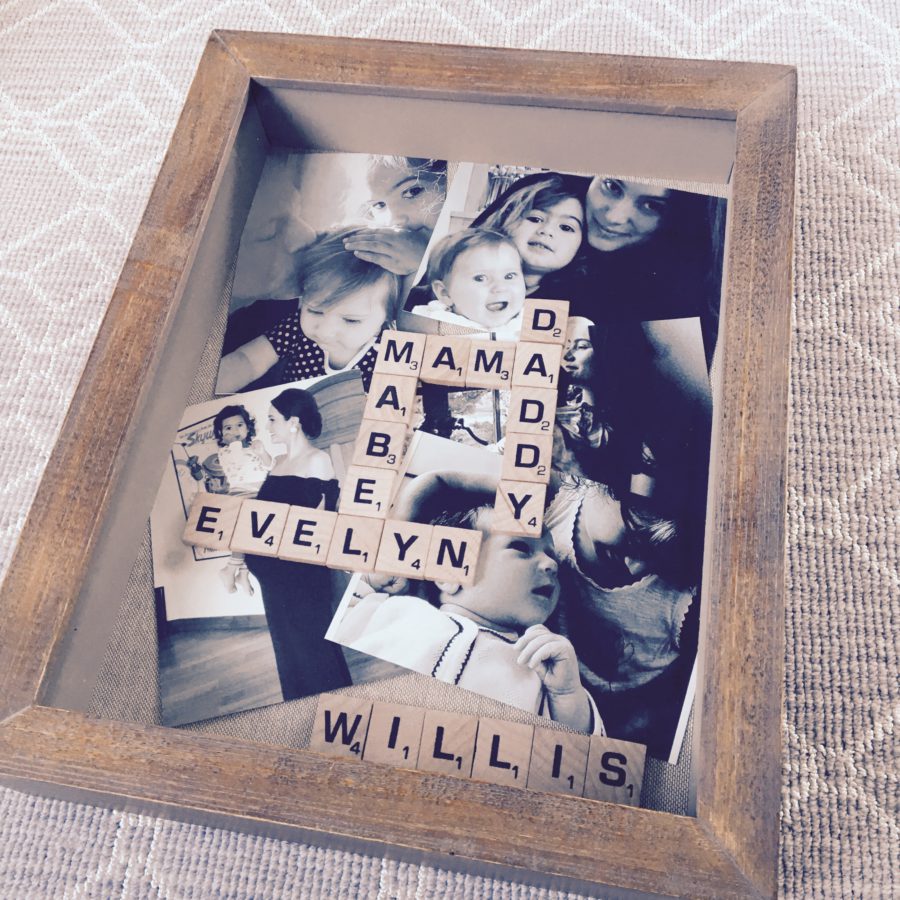 As for the other Willis, Bruce this past Sunday finished his 16 week run of Stephen King's novel Misery. Not only was it a great show– with Laurie Metcalf and Bruce keeping us on the edge of our seats the whole time. Leon who played Buster definitely made his mark as well. I could not be prouder of my husband. His dedication never wavered and he was as always, the total professional to the last second. I have total admiration for him- everyone involved really.
So here I am with these ticket stubs and Playbills. I mean, this stuff can't live in a drawer, not this time. It's just too special and I'm trying to get out of that habit. Let's get our mementos out of the drawer and up on our walls.
What you'll need….
Shadow box with Velour background
Polaroid printer  (optional)
How many items you have and the thickness of your items will dictate the size of the shadow box you'll need. My items were all paper materials so the shadow box I chose wasn't too deep.
There are a few standard ways to mount your items. Double-sided tape, pins, or a hot glue gun. Personally, I preferred using the hot glue gun. Everything just felt more secure this way.
I LOVE this mini Polaroid printer . I've referenced it before in my New Years… Family Style post so I'm definitely getting my money's worth out of it. I selected some memorable moments on my phone from the 2 events (there were Many) and printed them to make the box a little more personable.
I laid everything thing out and arranged it a few times till it all looked and felt balanced and glued it down. I was so thrilled with how it turned out. What do you think?? 🙂 I already know what my next two shadow boxes are going to be. I'm FINALLY going to take all that hospital memorabilia from the birth of both girls and display them.
Am I really late to this party? Feels like it! Have you made shadow boxes before? Or maybe I've given you an idea? 😉
Happy Shadow Boxing!
Emma xx
gift guideKeepsakePolaroid printerShadow box