Food
Spooky Halloween food ideas..
Halloween is the perfect time to get creative with your food and create spooky and fun treats. Whether you're hosting a Halloween party or simply looking to add some festive flair to your meals, here are some fun food ideas that are sure to delight both kids and adults alike.
Jack-O-Lantern Pizza 
Make a classic pizza but shape the dough into a pumpkin instead. Use black olives for the eyes and a mouth and use orange cheese for the pumpkin's color. It's a delicious and festive twist on a favorite dish.
Monster Popcorn
Popcorn is always a hit, but for Halloween, why not make it extra special? Melt white chocolate and mix in some green food coloring. Drizzle the mixture over the popcorn and add some candy eyes. It's a monstrously delicious treat that is sure to be a hit at any Halloween gathering.
Mummy Hot Dogs
Wrap refrigerated crescent roll dough around hot dogs to make them look like mummies. Leave a small gap for the eyes and bake until golden brown. Use mustard or ketchup to create eyes and add a spooky touch to your Halloween hot dogs. Here's a fun recipe from The Pioneer Woman with image below.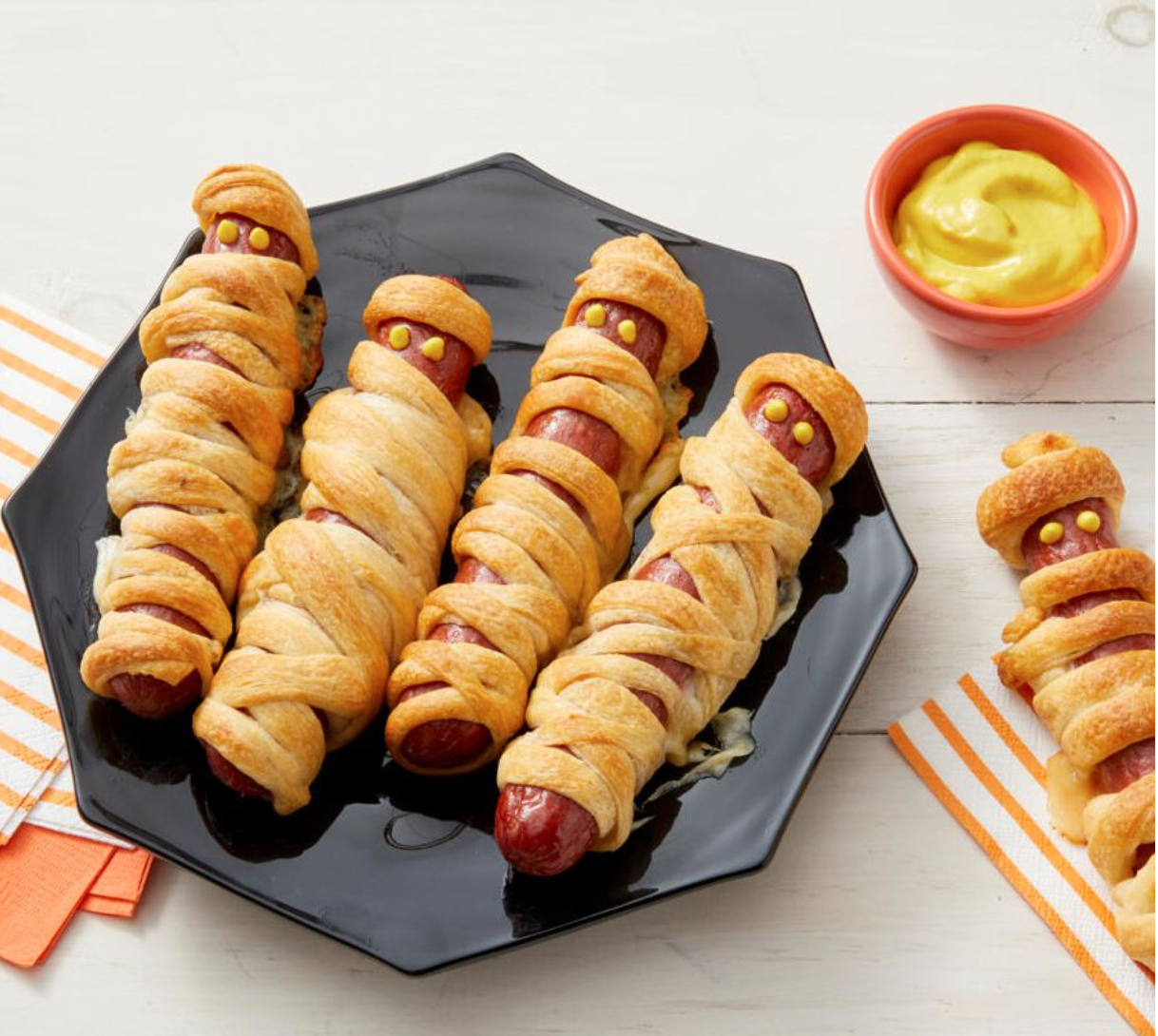 Spooky Spider Deviled Eggs
Prepare deviled eggs as you normally would, but instead of normal toppings, us black olives to create a spooky spider! Use a half of an olive to create the spider's body and small olive slices to create the legs, and voila! You have a spooky and delicious Halloween treat.
Graveyard Taco Dip
Prepare a traditional taco dip with layers of refried beans, guacamole, sour cream, and salsa. Use shredded lettuce to create the effect of grass, and place taco chips upright to resemble tombstones. You can even take it an extra step by using black food coloring to write spooky phrases on the tombstones. It's a festive and delicious dip that will be the highlight of any Halloween party.
Witch's Brew Punch
Create a spooky punch by mixing orange juice, pineapple juice, and lemon-lime soda. Add green food coloring to give it a creepy touch. Serve it in a cauldron or a punch bowl with dry ice to make it look like a witch's brew. It's refreshing and adds a fun element to your Halloween party.
These fun food ideas are sure to make your Halloween festivities extra special. Whether you're hosting a party or simply enjoying a family meal, these spooky treats will delight both kids and adults. So get creative in the kitchen and let your imagination run wild. Happy Halloween!
foodhalloween