Food
Summer Savory Galette…
Okayyyyy don't let the title of this post fool you, I haven't lost my no-fuss Mama state of mind… I promise! Summer Squash Galette may sound like something you order at an over-priced brunch spot, but I swear this yumminess is something you can easily make at home. What is even better is that you can vary this recipe in SO many ways (both sweet and savory). This recipe is definitely a new trick in my culinary arsenal. Truly the only limit is your imagination and what you have in your fridge. Galette is just a fancy word for a round, free form pie, cake or pastry. Translated even further into my terms is: an easy recipe that makes it look like you are an accomplished chef.
Take a look at the Pinterest board I put together for galette ideas to give you a better idea of how this gorgeous piece of pastry can turn out, and hopefully give you a little inspiration for your own creations.
To break it down in its simplest terms, think of a galette as a pizza that you load up with your favorite toppings working from the center, leaving about 1 ½ " inches of the edge clear.  Then you fold the edge in towards the center creating a "crust" for your galette. You can brush the edge with an egg wash, olive oil or butter. In our recipe today we are giving our olive oil a little bump with some dried herbs. For sweet galettes, you can even add cinnamon or sugar depending on the flavor profiles you are working with.
I'm really trying to eat what we grow in our garden and the ever-versatile galette fits perfectly into my summer plans.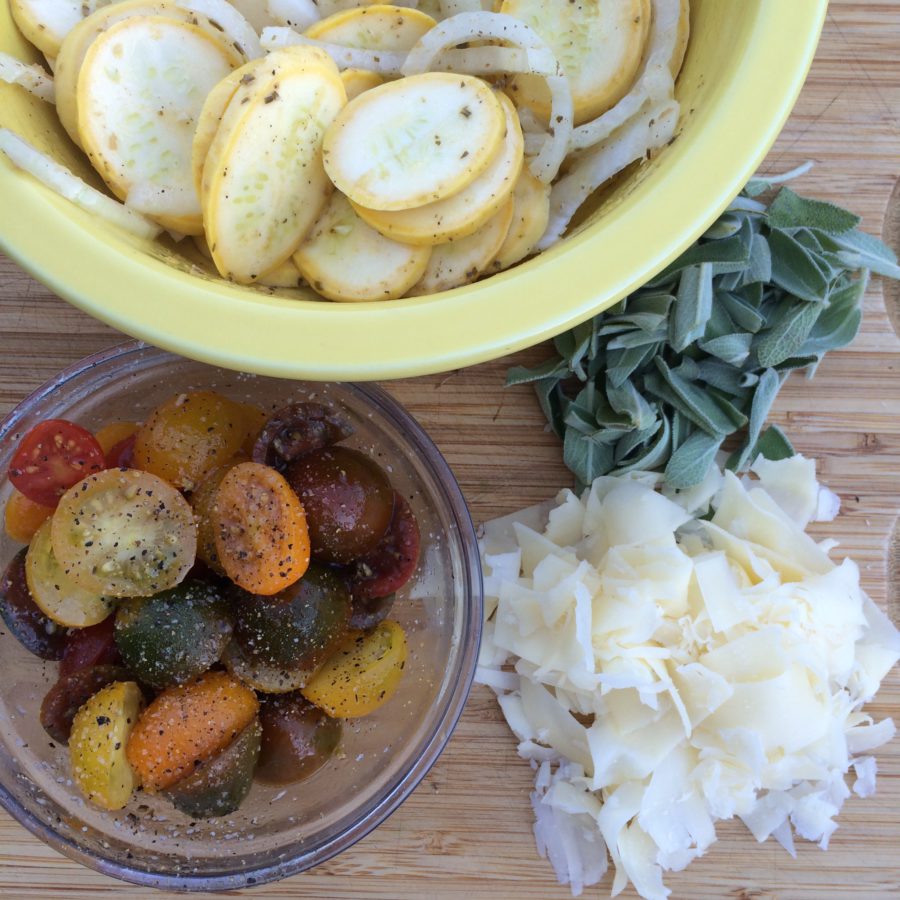 Truly the only limit is your imagination and what you have in your fridge...
Summer Squash Galette
Ingredients:
Pre-heat oven to 350 degrees
2 crookneck squash (can be substituted for zucchini)
8-10 cherry tomatoes
½ Tablespoon minced fresh sage leaves
¼ cup olive oil
½ cup shredded or shaved parmesan
salt & pepper
1 small onion
¼ teaspoon dried minced rosemary (optional)
¼ teaspoon dried minced oregano (optional)
¼ teaspoon red pepper flakes (optional)
1 ready made pie crust 
Now if you are itching to make your own pie crust, here's a great link   to how Ina does it!
I like to prep all of my toppings before bring the pie crust out of the fridge. Slice your onion and squash thinly. My suggestion is to use a mandoline slicer  so you can cut thin uniform slices. Place these items in small bowl and toss with a drizzle of olive oil and salt and pepper. Cut cherry tomatoes in half and repeat process with olive oil and salt and pepper. Set aside. Take 2 Tablespoons of olive oil and place it in a small bowl.  Add in the dried herbs (the optional suggestions in ingredient list) and mix well. Set aside. This is what you will brush the edge of your crust with before baking.
Now that you have all of your toppings prepped, place your pie crust on a greased baking sheet  or alternatively, you can line the baking sheet with parchment paper . Start by placing the squash on the pie crust. Leaving approximately 1 ½ " from the edge without any toppings. Then add onions, parmesan, and tomatoes. Last add the sage sprinkling sparingly throughout. (Remember: sage imparts LOTS of flavor. Less is more). Fold up the edge creating the crust of your pie. Using a pastry brush, take the herbed olive oil and brush the edge of your galette.  Pop in the oven and bake for about 30-40 minutes or until crust golden brown and baked through.
See? It is really that easy!  I'm looking forward to trying out different combinations. Perhaps next time around I will give the sweet galette a try.
Have you ever made a galette? PLEASE share any of your favorite summer recipes down below. The simpler, the better!!
Emma xx

foodoutdoorsrecipessummertime