Food
Taylor's Kale Brownies…
I try to keep desserts off the radar in our house as much as possible without trying to be a killjoy. So when I do bring desserts around my preference is that the ingredients are at least organic and not pounded with sugar. Queue my friend and baking extraordinaire Taylor Foster . She graduated from the Culinary Institute of America with an Associates Degree in Baking and Pastry. Oh and let me mention she's been a top model  for as long as I can remember.
I asked her the other day to give me some ideas for desserts that might actually be a little nutritious for my kids. I thought I'd stumped her. Nope, not Taylor. She came back with Kale Brownies that are vegan and gluten-free. My first thought? Get out of here Taylor. But once I tasted them, I couldn't believe how delicious they were. My kids thought Santa had come back to pay us a secret visit. They were over the moon about these brownies! Ha Ha little did they know.
Taylor is a classically trained pastry chef. So not everything she makes is vegan and gluten free. She can throw down like the best of them. But what I love about Taylor's baking is she mostly uses organic and natural ingredients. She tries to avoid sugar as much as possible. Her favorite substitutes? Date sugar , maple syrup, Grade B which she says "gives a stronger flavor." Local honey, which is also great for combating allergies. Apple juice concentrate and orange juice. As for her philosophy – "I'm a firm believer that it can still taste good and be healthy for you. Don't be scared to try new things – get inspired by a recipe and make it your own!"
Prepared to be blown away by her brownie recipe….
I couldn't believe how delicious they were...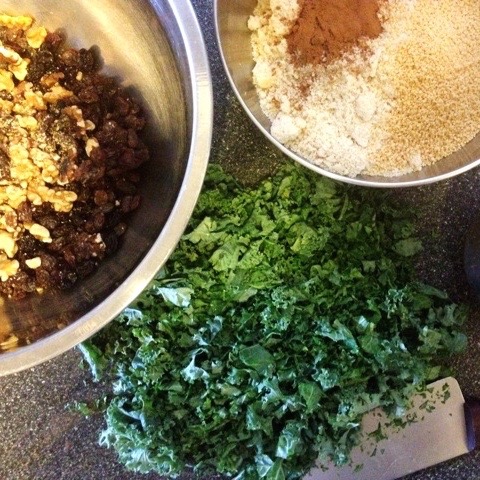 Kale Brownies
gluten free and vegan
yield: about 24 bars / cut 6 across & 4 down
in a 1/4 sheet pan (12×8.5)
1/2 cup     Maple Syrup
1/2 cup     Honey
1 cup         Almond Butter (or Peanut Butter)
1/3 cup     Coconut Oil
1/4 tsp      Almond extract
2 tsp         Vanilla extract
2 ounces      (about 2 packed cups)   Kale, fresh
1 tblsp           Lecithin (can make w/o)
1/2 cup         Coconut, dried, unsweetened
1/3 cup         Flax seed
3/4 cup        Almond Flour (or ground almonds)
3/4 cup        Walnuts
1 cup             Raisins
1 cup             Raw Cacao Powder (or Carob Powder– makes caffeine free)
1/2 tsp          Cinnamon, ground
Oven at 350.
First 6 ingredients in pot on stove. Medium Flame – whisk well. Bring to a boil. Turn off.
Kale in a blender / vitamix / food processor and blend well. Add rest of ingredients, including nut butter mixture and blend.
Scoop into a greased pan (I use a 1/4 sheet pan which measures 12″x8.5″ you could use a rectangular pan or cookie sheet with sides!)
Press down well and evenly!
Bake about 20 minutes.
Check out Taylor's website  where you can buy some seriously amazing goodies. Enjoy!
Do you have any sneaky dessert recipes? Please share!
Emma xx
browniescoconut oilhealthy optionskalerecipessweet treatsvegan