Mamahood
The Clothing Battle…
This is one area that is most definitely a new battle at home. Getting dressed! Mabel loves pink and it has to be a dress. She'll even do about three outfit changes during the day and I let her—pick and choose your battles. Evelyn used to be so easy when it came to getting her dressed but she hears her sister kicking up a fuss and she'll adapt the same attitude. Frustrating.
What I've come to realize is that this particular expression of rebellion is just my children testing the limits and experimenting with the idea of "independence". So, I've had to get pretty clever when it comes to getting these kids dressed without a fuss these days while allowing them to feel that they can have some say in choosing what to wear, thus affording them a sense of independence.
Here are 4 tips that seem to be working:
I make sure that whatever is in my children's closet or dresser drawers are suitable for them to wear. Meaning, it's season appropriate and nothing that they've grown out of, etc. Since we're in summer mode I've organized and stored all their winter gear. Not like they would be picking out warm sweaters to wear in this heat, but with this bunch you never know which way they'll go! Needless to say, I forgot to pack Evelyn's winter boots and sure enough, she found them (pictured.) I need to be 10 steps ahead of them. I also make sure there are no "costumes/dress-up clothes" in their closets. My daughters will gravitate to tutus and princess dresses in a heartbeat and they would happily wear them out the door. I've designated another area away from their bedrooms where those outfits live. That alone has cut back on morning meltdowns by half. If they pick what's in their closet or dressers and want to mismatch their outfits, I'm fine with it. My main concern is they're dressed appropriately for the weather. Like I said, I pick and choose my battles!
I've had to get pretty clever when it comes to getting these kids dressed without a fuss these days...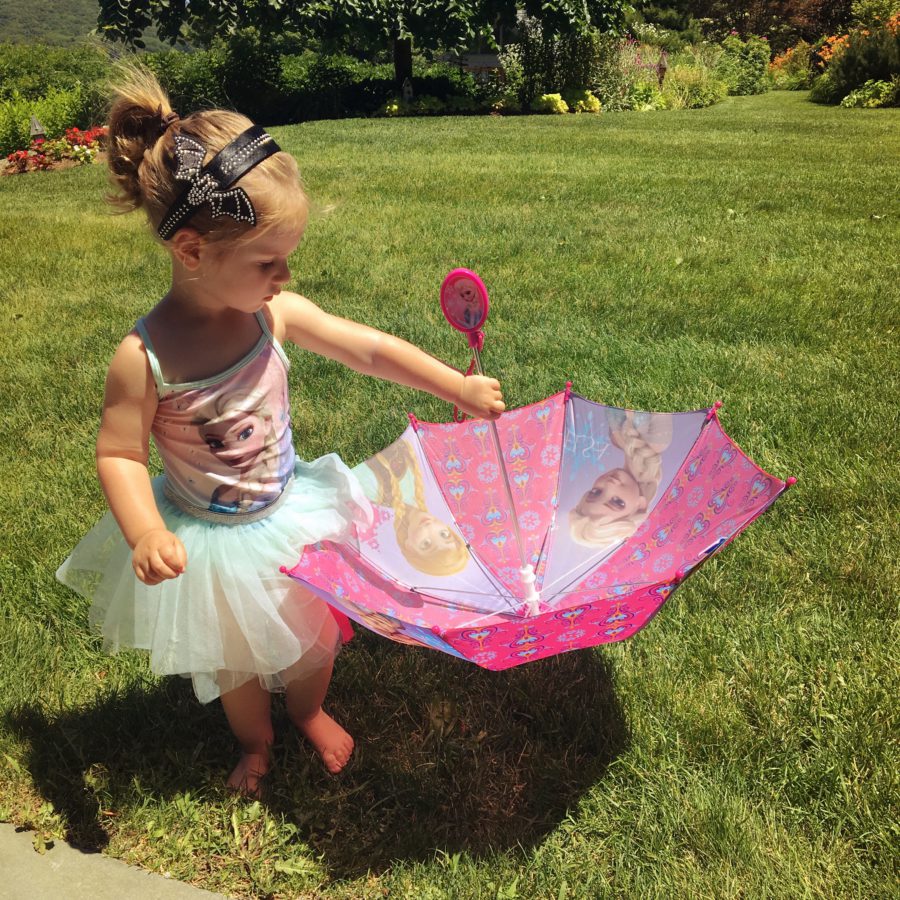 Usually I'll help Mabel pick her outfit out the night before. It's just easier to do it at the end of the day than hassle about it first thing in the morning. I've tried this with Evelyn but she's still a little young because when morning rolls around she does not want to wear what we've picked out. She's been a tough nut to crack. We are basically in the 2s mode so you know how that goes. But if I can get Mabel dressed happily, then Evelyn usually will follow suit—usually.
With Evelyn, I'll try and present her with two choices. "You can either wear this or that." It's a Jedi mind trick that works 80% of the time.
I've also started shopping with Mabel. What I would love to see her in is not what my daughter has in mind. We went shopping as spring was moving in and we picked a few new spring/summer outfits. That helps acknowledge her independence and she'll easily pick those outfits out in the evening with no problems.
Hope that helps you but please feel free to pass on some advice my way! As always, learning as I go!
Emma xx
clothingKidsParentingstyle