Style
The One-Piece…
Back in the day, when I was modeling full-time I used to get booked a lot for shoots that allowed me to show off my bikini body. I was always confident with the way my body looked. Mind you, I did work my butt off in the gym to keep that bikini body together but being blessed with good genes was also a big plus. Thanks Mom!
Back then, I think I owned one, one-piece bathing suit in my 20's. The only time it came out of my drawer, was if I was going to the gym to swim laps and it was ugly as sin. I would have never considered wearing it to the beach. Never. I mean, the one-piece back then only seemed reserved for grandmothers (no offense,) plus the cut of those one-piece suits were so unflattering. Well, times have changed my friends and so have I. I could still wear a bikini (not my first choice) but when I'm running around with my kids on the beach or we're in the pool and I'm being pulled on, being in a one-piece is just so much more comfortable and reliable! Here I am, after two kids and pushing 40 in a few months and I have to say I might be ok with retiring my bikini's when there are so many great one-piece options nowadays. A one-piece is really so flattering and is still very sexy!
Take a look at some of my favorite one-piece picks that I hope will inspire you!
Being in a one-piece is just so much more comfortable and reliable...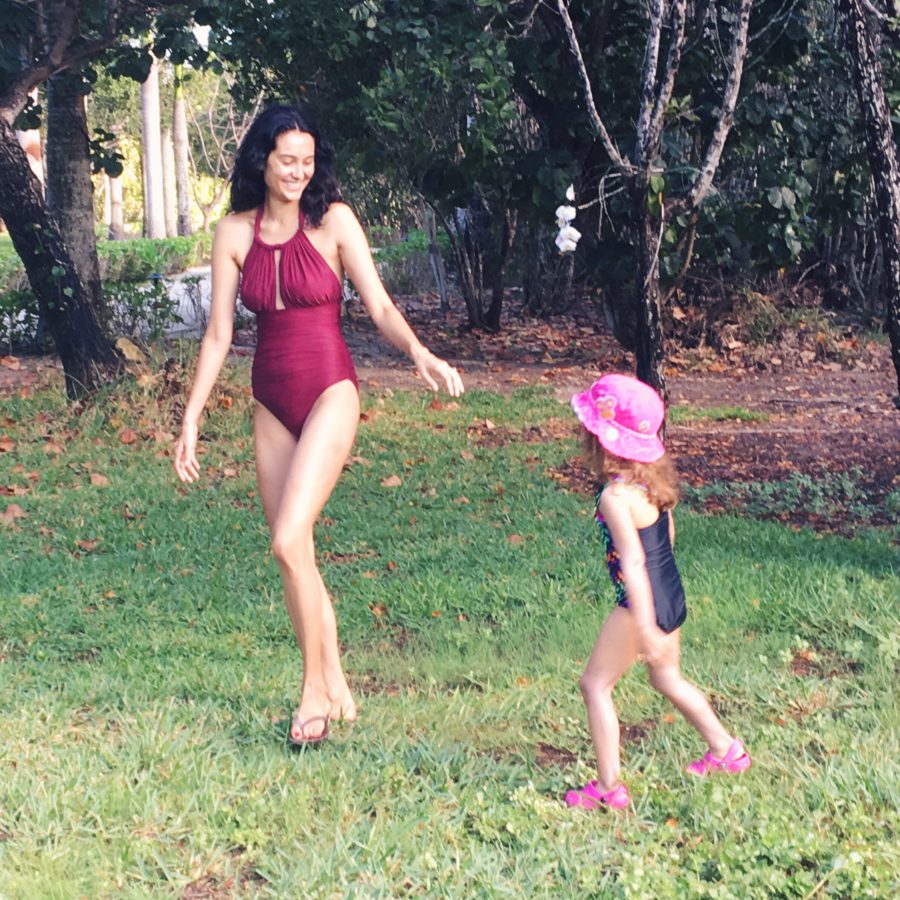 Aurora Floral Print Paneled Swimsuit
Gathered Deep Plunge : pictured
Ruched cut out swimsuit : pictured
I know a lot of mom's who just aren't comfortable showing their mid-sections anymore. If it's because of the lack of elasticity through the mid-section or stretch marks after pregnancy– I know a few of my mommy friends would prefer to cover up. I'll raise my hand to that one. Let's just say my "washboard abs" never recovered after baby number 2. I also find nothing more beautiful than when I see a mom with her stretch marks on her belly. It's truly a lovely badge of honor. I miraculously escaped belly stretch marks even though I had two very Big babies. I owe that all to my raw coconut oil that I slathered myself with for the full 9 months and beyond! Take note because it worked!
What are your feelings on wearing bikinis versus the one-piece after kids?
Emma x

Must-haveOne-pieceshopstylesummer styleswimswimsuits