Create
The Thanksgiving Kids Table…
Holiday season is beckoning my friends, are you ready?!? I recently gave you my top tips for holiday season travel  and also shared my Thanksgiving Craft ideas . Now let's get to the main Turkey Day Event, Thanksgiving Dinner. Today's kid table is definitely not the rickety card table after-thought that some of us remember as kids. The kid table has greatly evolved and I'm jumping on the bandwagon too! It's really easy to put together and your kids will love it. You may even get to enjoy a little polite adult conversation and vino while your littles are engrossed in their dining fun. I'm by no means saying that our babies are shuffled off to kid table land away from the adults to the contrary 😉  I plan on using my kid table as a creative way to entertain my kids before/after/during the meal if they become restless…ok, I admit it, become completely bored by all of that adult conversation I previously mentioned. Plus, it's a way to engage my girls on family traditions and give them a little slice of Thanksgiving heaven to call their own.  No stuffy centerpieces or fancy silverware allowed here!! I actually found this great BPA-Free plastic cutlery set  from Ikea that's absolutely perfect. Don't be surprised when I use the red and green ones for Christmas!
Today's kid table is definitely not the rickety card table after-thought that some of us remember as kids...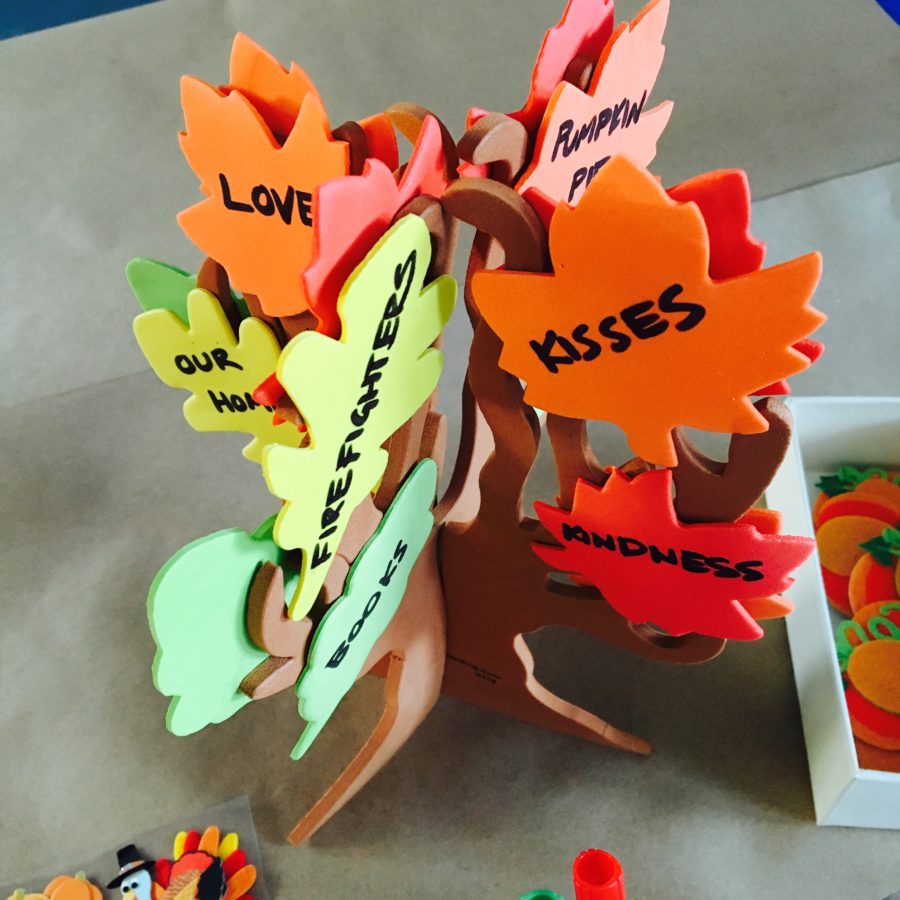 I got much of my inspiration from Pinterest  and as you've gotten to know me, you know I had to make a board specifically for the Thanksgiving Kid table .  I'm a mom with a craft kit … Watch out!!! I'm also a mom, like most out there, who is short on time. I like to keep it simple and easy to execute.  There's enough madness around the holidays. No need to pile another complicated task on your plate. Keep to the basics… What do your kids like to do?  Mine LOVE to color so I gave them a dining area loaded with room to draw. I chose to cover my table with  brown craft paper but you can easily do the same with any type of paper, even create a quilt with plain printer paper . Use painter's tape  to adhere to table without causing any damage. I've seen some people use  ribbon  as trim for their paper tablecloths, but the extra work would be lost on my girls, so I opted with wrapping the tabletop like a gift. Stamps  are a fun way of  decorating your paper tablecloth or having the kids do it themselves. You can add fun pops of color by adding in different colors of ink with your stamps. I chose  orange   and black  inks since my table "cloth" was brown. I also found these great FREE Thanksgiving themed coloring pages that you can download here  or here  that could be easily used to add fun to your table or even as your child's placemat. Another way to add a bit of color and texture to your tabletop is by adding stickers . This is something you can add ahead of time or leave for your kids to do themselves once they are seated. For my centerpiece I found this really cool Tree of Thanks craft kit . I scoured the internet for a singe tree but came up short. A pack of 20 Tree of Thanks showed up at my door but I'm ok with it! I'll be handing them out to the parents on my preschool run tomorrow! The girls loved putting this tree together.
Overall, Thanksgiving for our family is all about good food and spending time with our friends and family. I think our little Thanksgiving table is the perfect addition to our family traditions. Do you have any fond or funny memories from your time at the kid table? Do you have any tips or tricks for kid entertaining during holiday meals?
From my home to yours,
Emma xx

craftcreatefallkids tablethanksgiving