Mamahood
Transitioning to a "Big Girl Bed"
What I've figured out the second time around is that it's been best to follow my children's lead on certain things. For example, for the last six months, I've been asking my now three-year-old daughter Evelyn about being moved over to a "big girl bed". "No mommy, I love my crib," she would respond. Well, I kept checking in with her every month and still the same thing. To be perfectly frank, I was totally fine with it and not having any anxiety around it all. I couldn't care less if anyone were to look at me and say, "She's still in a crib?!" We all know she can't stay in a crib forever and I knew when she was ready she'd let me know. Well, that time has come people! We've just returned from our family vacation and when I asked, she said yes!
Let me say the transition has been easy as pie. I know it has a lot to do with her state of mind around it as she feels empowered that it was her decision. Leading up to it I referred to this previous post I had written when Mabel was transitioning to a bed. My "child sleep whisperer", Jennifer Waldburger, co-owner of  Sleepy Planet , whom I've consulted many times , gave me some great tips on how to make the transition as easy as possible. I've carried it over to this post again and added a little extra tidbits too:
What I've figured out the second time around is that it's been best to follow my children's lead on certain things...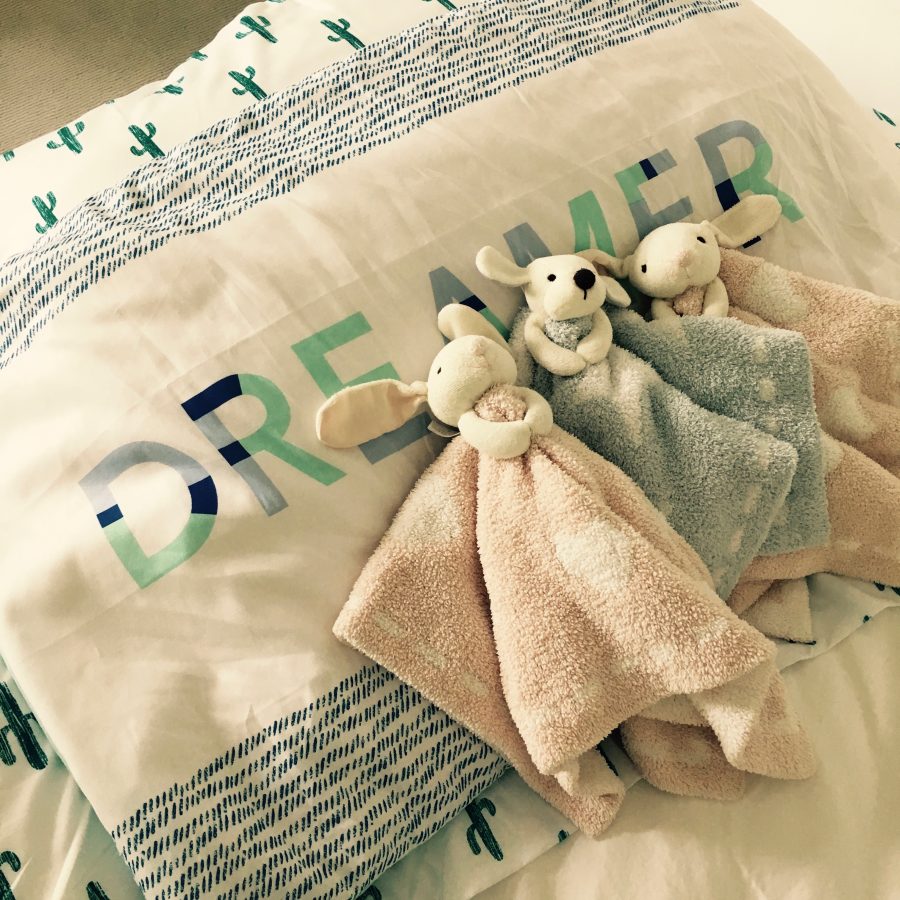 Buy a simple twin bed and box spring. No bed frame, toddler bed, or princess bed. And don't refer to it as a "big girl bed." We just called it Evelyn's new bed.
As I did with Mabel, I took Evelyn on a special date to Target and she picked out 2 sets of sheets for her new bed. Thankfully they were cute !
Magic Bumpers keep her not just safe but with a new larger mattress/space to get used to, it brings the boundaries in. Something that she has grown accustom to since being in a crib for so long. Dock A Tot is another great transitioning item that you can place on the twin bed. It also keeps your child safe from rolling and since it's three-sided, very cozy too.
Two bed rails . One for the head (like a headboard) and the other for the side. Unless you can (preferably) push the bed into a corner then you would just need one rail for the side.
And a high  safety gate in front of her bedroom door. To me this was so important to make this process successful. The thought of Evelyn being able to roam around the house freely at night sent chills up my spine. And she would never sleep in her own bed if she knew she could just simply leave her room at any.
Another tip is any special lovies or blankets your child had in their crib, bring them over to the bed. Evelyn has her Barefoot Dreams lovies and blanket she can't live without! Just helps make the new surroundings feel a little familiar.
So now my baby isn't so much of a baby anymore, sigh. She's so proud of herself and her bed. I'm especially thrilled that we've been thrown a bone as it's been one easy transition!
Any crib to bed transition stories or tips to share, please do!

must-havessleep issuessleepy planetTipstoddlertoddler bed