Mamahood
Twice blessed…
I always envisioned having two kids. I'm an only child so one would have been fine but two was my dream. So when our sweet Evelyn Penn arrived 25 months after our first Mabel, I was tickled pink. I knew life with two would be challenging but in my head I had it all worked out. Now, I'm not sure what I was thinking as I know full well trying to make civilized plans when kids are involved just does not exist. At least not in my world. Actually, what's the saying? If you want to hear God laugh, tell him your plans.
Mabel had just turned two a month prior to Evelyn's birth. At that time (and still) the two's were already in full swing. I didn't know how Mabel was going to react to the arrival of her sister. I was a bit nervous. We talked about it a lot with her but I wasn't sure she totally grasped that she was about to become a big sister and how much change was about to take place in her world. Oh how I worried. I never had to share my mom's attention being an only child. I really had zero knowledge about how to navigate with two kids. I had no tools on how to do this juggling act. All I kept saying to reassure myself was, everyone else has done it, I surely can as well. So the only books I read while I was pregnant were books about expecting baby number two. One book in particular that I really liked was called Twice Blessed . It touched on everything from being pregnant again, preparing your marriage and first born.
I really had zero knowledge about how to navigate with two kids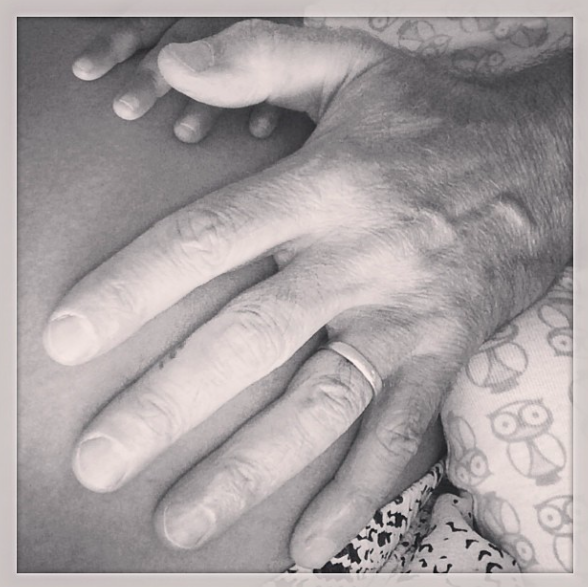 That book definitely took the edge off. But nothing can prepare you until you're knee deep in it. And boy it's harder than I imagined. And that's just something that I've had to come to terms with. So I'm not the mom walking through this with poise and grace. I'm the mom that has guilt because I haven't figured out how to divide my time up properly between the girls and my husband. I'm the mom that feels overwhelmed at times. And what I'm actually really hoping is that I might have a bit of postpartum depression. Because that would explain how my brain is operating these days! Or does it? My questions to you are how did you feel you did when your second baby came? Did you settle into it with ease? And if you did how did you do it?
After all is said and done I am a proud mom of two healthy and incredible girls. I look at them and my heart does flips. I can literally feel it. It's like the feeling you felt with your first true love times 10,000. So I will except my new world of being a bit of a frazzled mess because I wouldn't want any other life than the one I have now.
From my home to yours,
Emma
BookDaugthersKidsmommy guilt