Create
A DIY Valentine Classroom Gift….
I remember being in elementary school, exchanging  Valentine cards  and candy hearts with all my classmates. It was such a sweet tradition and I was thrilled to hear that it's is still going strong. Mabel's class is having a card exchange with party this Friday and I have the perfect little DIY gift that would compliment her cards. One of my loyal blog followers, Shelley M. sent me this great craft idea and I thought I'd give it a whirl. DIY heart shaped (of course) tie-dye crayons. I LOVE how they turned out!
I've seen these swirled crayons  before but it never occurred to me how easily they were to actually make. Another reason I love this gift is it's a non-candy option on a highly sugary day and we all know how I feel about sugar.
One of my loyal blog followers, Shelley M. sent me this great craft idea...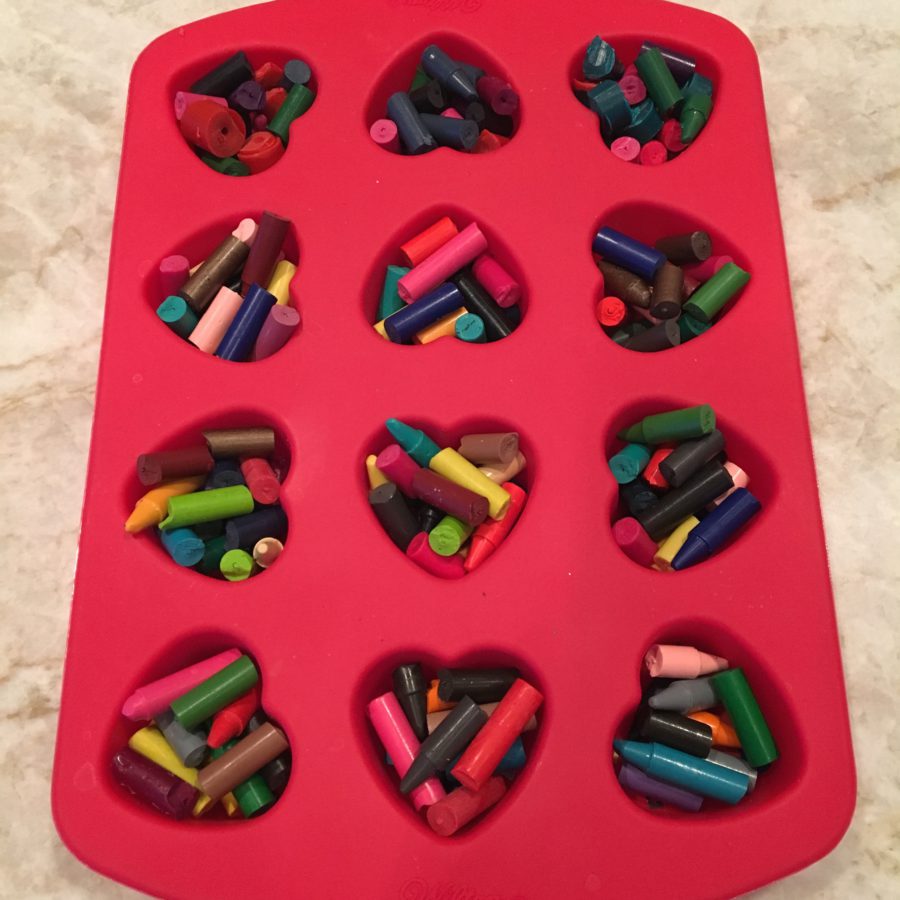 Tie-Dye Crayons
Medium-mixing bowl
Chopping board
Chopping knife
Preheat oven to 230 Fahrenheit.
Fill your medium-mixing bowl with warm water. Throw all your crayons in and then start peeling the paper off your crayons. I found this the easiest way to remove the paper quickly. Mabel was able to help with this part.
Take about 3 to 5 crayons at a time and chop them up into small pieces.
Fill up your mini silicone molds with your chopped crayons. Making these in the silicone mold makes it so easy to pop the crayons out after they've dried.
Place them in the oven for about 15 minutes. Keep an eye on them till you see all the crayons have melted. *Note: metallic crayons don't melt so stay away from them.
Take them out to cool and out of reach from the little ones. It's HOT.
As they are cooling I placed one drop of lavender essential oil in each mold. It just adds an extra element to the whole sensory experience when they start to color. You can use any essential oil you love.
So now you'll know what to do with all those broken crayons that accumulate! But if this gift doesn't do it for you, I've started a Pinterest board of other Great classroom gift options for you!
Are your kids doing a card exchange at school this year? Any non-candy gift options are welcome in the comment section.
With love,
Emma xx
CrayonscreateDiyKidssensoryshop