Create
The Sensory "Sandbox"…
My youngest daughter, Evelyn is a big fan of her sense of taste, and until recently insisted on tasting just about anything she could get her hands on! So when I started looking for sensory projects for her, I sought out ones that were edible. Not the ones that actually tasted yummy, because I felt I would be fueling the fire. Evelyn has thankfully just transitioned out of the "put everything in your mouth" stage, but these sensory bins are great no matter what stage of development your younger children are in. Mabel, who is three, enjoys this sensory bin just as much as her little sister.
Pinterest has become my craft and project encyclopedia and it definitely did not let me down in the land of Sensory Play . Here's what I've learnt. From birth, babies learn about their surroundings by the use of all of their senses. Babies explore and process our world through taste, smell, sight, sound and touch. That's precisely why sensory play is so important as it amplifies learning through hands-on activities and projects.
Ok, let's get to the fun part! Basically we're making an indoor sandbox using oats and rice instead of sand. And with the colder weather settling in I'm looking for more and more activities for the indoors! To make it a little more fun and interactive we're going to color the oats and rice. It adds another level of learning and interaction by being able to talk colors while you are playing and really, who doesn't love a little color?!
To put your Sensory bin together start by finding a large roasting type pan or bin/tub of equal size. The size of your bin will dictate the amount of "sand" you will need.  You don't want too little because then your child can't really dig in and get the full experience. You also don't need to go crazy and overfill your bin because it will be a bit harder for your child to play and the chances that you will have a giant mess on your hands will go up considerably! That being said there's no need to overthink it. This isn't an exact science. You just have to try it out to see if you need to add/remove some of your oats and/or rice.
Mabel, who is three, enjoys this sensory bin just as much as her little sister...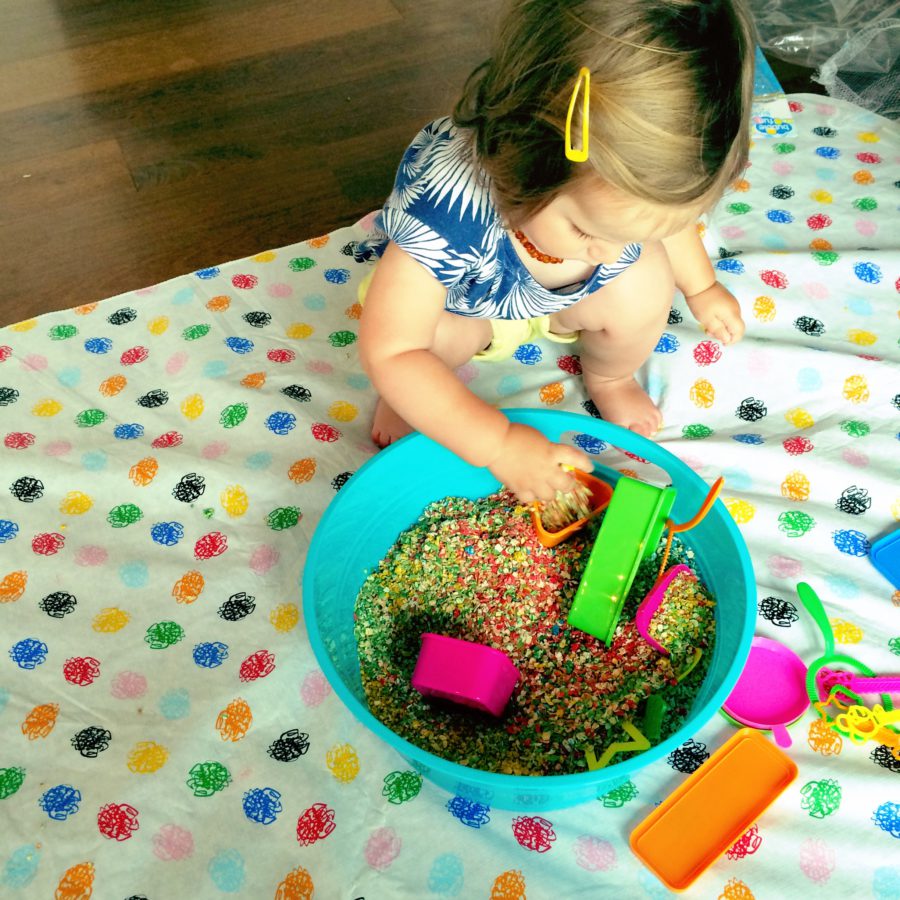 How To Color Your Oats & Rice…
OATS:
What you will need:
Oats: Approximately 5 Cups
Water
Divide up your oats into as many colors as you would like to make. I'm a fan of only making a max 2 cups at a time so you make sure the color spreads evenly and you aren't trying to wrangle a mess.
Place 4 Tablespoons of water in a small bowl and add a few drops of food coloring and mix completely. Set aside. Put your oats into a Ziploc bag and add about a half tablespoon of your colored water. Shake bag to mix.  Keep adding color a few drops at a time until you color your oats completely. You have to be patient and build color slowly or you will have a bag of mushy oats on your hands!! Once you get to your desired color intensity, place your oats on a baking sheet to dry.Repeat the process with each desired color. **If using steel cut oats, you need to dye by using the rice method.
RICE:
What you will need:
White Rice: Approximately 5 Cups
Food Coloring
Large Ziploc or Airtight container
White Vinegar
Baking Sheet
Place your rice in a ziploc or airtight container.  Add 10-15 drops of food coloring and teaspoon of white vinegar. Then seal your ziploc or container and get to shaking. Once coated place on a baking sheet to dry.
Now for the tools and toys for your sensory "sandbox"… Your kitchen is a great source for items. Small cups, containers, measuring spoons, measuring cups and things along these lines are perfect to use in your bin. What I do next is lay down my vinyl tablecloth from my craft kit  and place my bin in the center and let the playtime commence.
My favorite element of this project is that you could literally put this together with a few household items. I also wanted to see how much it would cost to put together this project if you needed to purchase everything. I'm proud to report I was able to find everything I needed at the dollar store for under $10!
Have you ever made a sensory bin? How did you make yours? What sorts of items did you place in your bin? I really think this is going to be a great project that my girls will enjoy for a long time to come!
Emma xx

Diymust-havessandboxsensorytoddler