Food
Chia Tortilla Soup with Black Beans…
I heard the other day that souping has become the new juicing. Bring it on! I'm all about juicing, I get it. It's very good for you but if I had to choose between another green juice or a hearty bowl of warm soup? Soup wins.
With winter looming over us, there is nothing more comforting than curling up with a warm bowl of soup. But then taking it to the next level by making something that is not only tasty but nourishing and healthy for our bodies.
Superfood chef Julie Morris is a writer, educator and advocate for whole, plant-based foods and believes in superfoods for optimal health. When I came across her new cookbook , based all on superfood soups, I couldn't wait to try a vast majority of the recipes for my family. Evelyn loves soups as well, so I was thrilled to be able to open up my rooster to her.
So what are and why superfoods? Superfoods are nutrient powerhouses, mostly plant-based but can also include some fish and dairy. Superfoods are packed with large doses of antioxidants, polyphenols, vitamins, and minerals. Eating them may reduce the risk of chronic disease, and is said might "prolong life."
Superfoods are packed with large doses of antioxidants, polyphenols, vitamins, and minerals...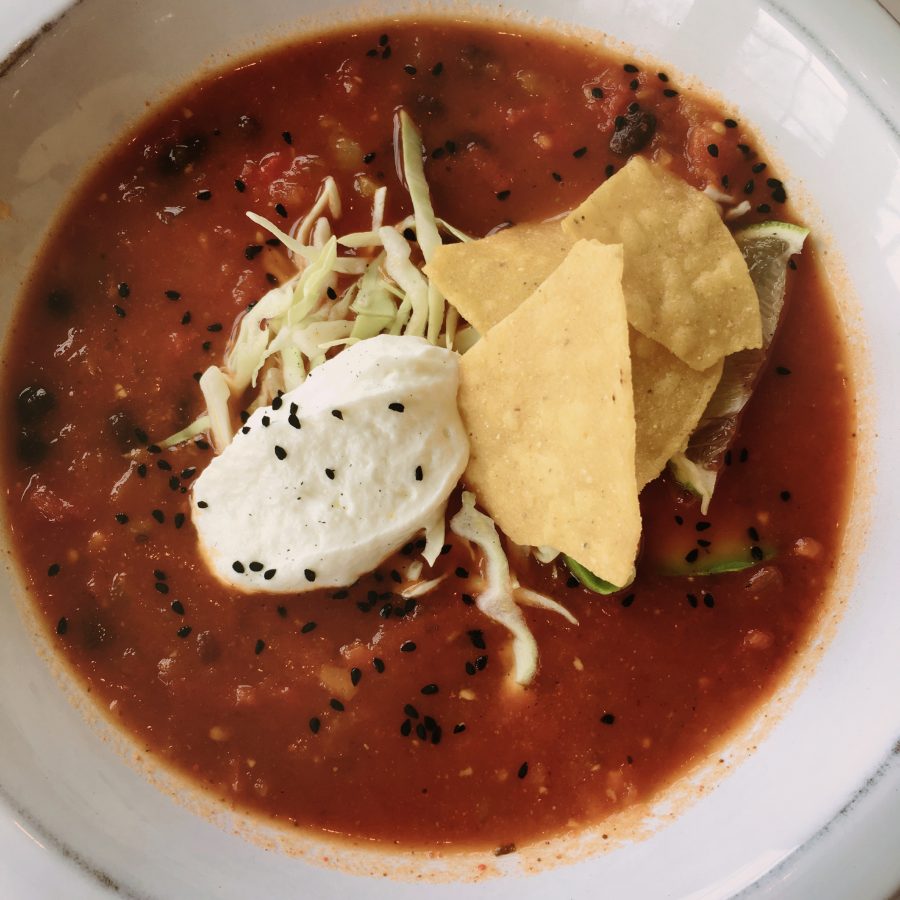 Chia Tortilla Soup with Black Beans
| | |
| --- | --- |
| 1 | dried pasilla or ancho chile |
| 3 | vine-ripened tomatoes (about ¾ lb.) |
| 1/4 | white onion, halved, peeled and trimmed |
| 1 | clove garlic, unpeeled |
| 1 Tbsp | olive oil |
| 4 cups | vegetable broth |
| 1 1/2 cups | cooked black beans |
| | sea salt |
| 2 Tbsp | chia seeds, for topping |
| 1 cup | crushed baked tortilla chips |
| 2 cups | finely shredded cabbage, for topping |
| 1 | large avocado, sliced, for topping |
| 1/4 cup | cashew sour cream, for topping |
| 1 | lime, quartered, for garnish |
Makes 4 servings
Warm a large skillet over medium-high heat. Dry roast the whole dried chile by pressing it firmly onto the hot surface of the pan with a metal spatula for several minutes on each side—the chile should become blackened and slightly puffed. Remove the whole chile from the pan so that it will cool. In the same pan, dry roast the tomatoes, onion, and garlic for 10 minutes, rotating them with a pair of tongs every few minutes, until the vegetables are charred and the tomatoes have begun to soften. Pull the garlic off early, once the skin begins to brown, and remove the peel. Add the charred tomatoes, onion, and peeled garlic to the blender. Open the chile and discard the stem and seeds, and then add it to the blender as well. Puree the mixture until it is smooth.
Heat the oil over medium heat in a heavy-bottomed pot. Add the pureed vegetables and cook until the color deepens, about 5 minutes. Add the vegetable broth and increase the heat to high. Bring to a boil, the reduce the heat to medium-low and simmer for 30 minutes. Add the cooked black beans, and simmer for 10 minutes longer. Remove from the heat and adjust salt to taste. Serve the soup hot, with chia seeds scattered over the top and piled high with tortilla chips, shredded cabbage, avocado, and Cashew Sour Cream. Include lime wedges on the side for a fresh squeeze at the table.
I loved how this soup turned out!
Emma xx

healthy optionsJulie Morrissoupsuperfood