Food
No-Fuss Pumpkin Pear Loaf – Fun in the Kitchen with the Kiddos
It's that time of year again! Time for all things pumpkin.
I love autumn. The vibrant colors of the trees, cozy socks, listening to the rain while wrapped in a blanket and reading a good book. Oh, and of course, enjoying a mug of cocoa with some sort of pumpkin goodie.
Today, I want to share my favorite pumpkin dessert: pumpkin pear loaf. My kids and I love working together in the kitchen. Now, with COVID, we have more time to spend together making yummy desserts
Baking with Kids During COVID – Why It's Important
Stability is so important for kids, and that's something that's lacking right now. More schools are incorporating virtual distance learning, which is helpful. But there's definitely less structure in place than when the kids were actually going to class.
Spending some time in the kitchen with them is a great way to pass the time and make some beautiful, fun memories. Plus, learning to cook and bake helps with learning important math and basic life skills. Besides, getting them to enjoy working in the kitchen will serve them when they grow up.
Add More Pumpkin to Your Life – It's Good for You!
Pumpkins are everywhere today. Most people are using them to carve Jack-o'-lanterns or are enjoying store-bought pumpkin bread and pumpkin spice lattes.
However, eating the real thing has so many benefits. Here are some of the health benefits of pumpkin :
It has 245% of the recommended daily amount of vitamin A (important for eyesight).
It's high in antioxidants, which can reduce the risk of chronic disease.
It's high in potassium, fiber, and vitamin C, all of which protect the heart.
Pumpkin seeds are just as nutritious as the gourd. It's easy to clean and dry the seeds and then eat them as a no-fuss, healthy snack, either on their own or added to trail mix.
These are some of the health benefits of pumpkin seeds :
They're a great source of magnesium – important for bone formation and density.
They may protect against type 2 diabetes.
They contain omega-3 and omega-6 fatty acids – good for heart health, skin, and more.
Another reason to add more pumpkin to our lives – it's amazing for our skin. Pumpkin contains enzymes, antioxidants, potassium, zinc, and vitamins A, C, and E, making pumpkin a superfood for our skin. A no-fuss way to incorporate some self-care into our life is to turn leftover pumpkin into a facial mask, body scrub, or an enzyme peel for gorgeous, glowing skin .
And now for the big reveal: the pumpkin pear loaf recipe of Weelicious.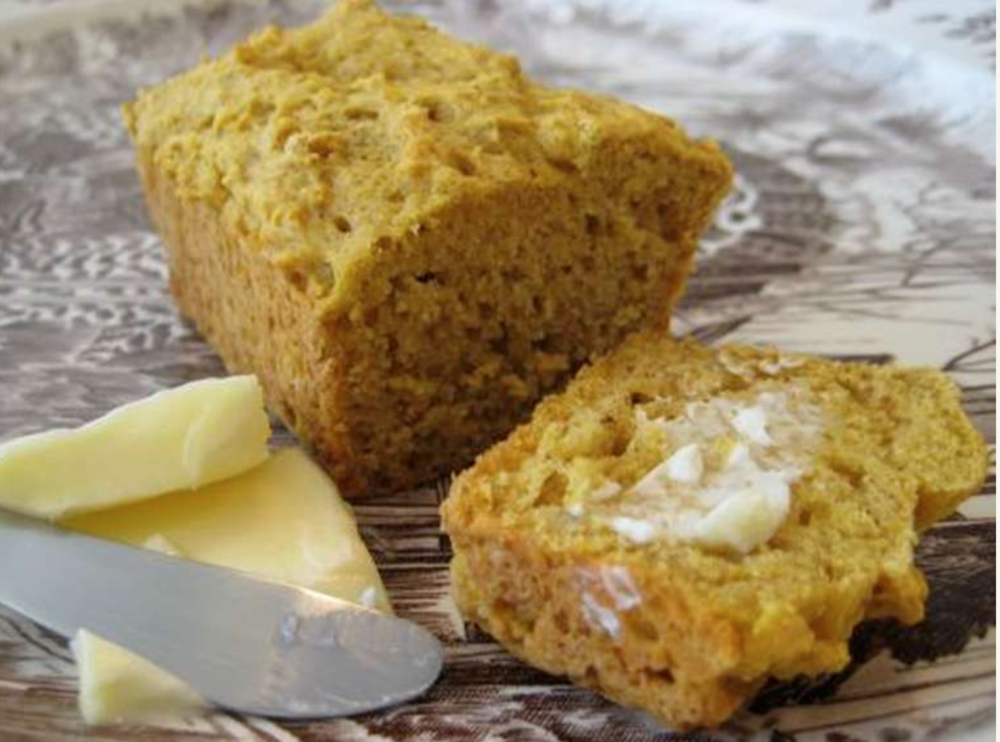 No-Fuss Pumpkin Pear Loaf
| | |
| --- | --- |
| 1/4 cup | cup agave, maple syrup, or honey |
| 1/2 cup | cup pureed pumpkin |
| 1/4 tsp. | butter |
| 1 tsp. | cinnamon |
| 1 pear | peeled and mashed (or ½ cup pear puree) |
| 1/2 tsp. | baking soda |
| 2 | large eggs |
| 2 tsp. | baking powder |
| 2 cups | flour |
| 1/2 tsp. | nutmeg |
| 1/2 tsp. | ginger |
| 1/2 tsp. | salt |
| | (Option: Substitute pear with ½ cup chocolate chips) |
Directions
Preheat the oven to 350 degrees.
Using a mixer, cream the butter and sweetener. Add the pumpkin and pear. Then, beat in each egg separately.
In another bowl, sift the flour and add the other dry ingredients. Mix wet and dry ingredients until well combined, being careful not to over mix them.
Place the mixture in six greased loaf pans. Bake for 20 minutes.
(Option: Use a 9-inch by 5-inch greased loaf pan and bake for one hour.)
Cool the loaf(s) for 10 minutes. Run a knife around the edges to release the loaf. Place on a cooling rack. Once it's cooled completely, serve and enjoy.
Add Stability and Fun with Extra Time in the Kitchen
We're living in uncertain times, and our kids are feeling it just as much as we are. Thankfully, we can add some stability and enjoyment into their lives by working together in the kitchen. It's a fun, uncomplicated way to nurture our family's basic needs during the colder months.

baking with kidskids in the kitchenno fuss