Food
Adult Summer Sippin…
We've discussed what to do outdoors  during the summer, now isn't it time we tackle what to drink to cool down with? It's adult beverage time!!
I'm truly a no-fuss kind of gal in most areas of my life and that definitely includes summer get togethers. A custom craft cocktail perched on a silver tray would never be the star of the show at our BBQ. I'm in no way knocking those deliciously creative libations, however, this mom on-the-go, has zero time (or patience) for blanching lemongrass or muddling peppercorns and sage leaves to make a complex simple syrup or foam for a drink de jour. More importantly, when you have guests over, wouldn't you prefer to visit with your company rather than play bartender? Nothing kills the party vibe faster than watching your host trying to sling drinks like Tom Cruise in Cocktail. Side note: Cruise learned how to flip those bottles at a bar my husband tended bar at. So unless that's your thing, and to that I say, more power to you. Please make me one of whatever you are having 😉
The trick to easy summer entertaining is going down the road of "big batch" cocktails. Big batch cocktails have come a long way from being the mystery punch of our college years. Instead of hand-making each and every drink, you make a few pitchers of your signature cocktail and make your life so much easier. The key is preparing ahead. Start by setting up a cocktail station AKA a self-service bar. The ones on my Pinterest board  are mainly from weddings, but you can get great ideas on how you can set up something really simple that looks chic, elegant or any vibe you like. You can really never go wrong with a beverage dispenser . The only potential pitfall is making sure not to clog the spigot which can happen if your drink has too much pulp. Mason Jars  are great for placing your garnishes and straws and this caddy is a perfect way to put those jars on display . Besides your pre-prepared pitcher and garnishes for the first round. I would also have your cocktail recipe(s) handy along with any items needed to make another batch. Pre-cut any fruit/garnishes you need as well. Then when it is refill time, you can throw it together easily and get back to the party.
Cocktail Station Must-Haves
Straws : If your beverage cups are smaller than the straws, then use scissors to bring them down to size
Outdoor acrylic glasses : that look like glass and they are BPA free, dishwasher safe and scratch resistant.
I'm truly a no-fuss kind of gal in most areas of my life and that definitely includes summer get togethers...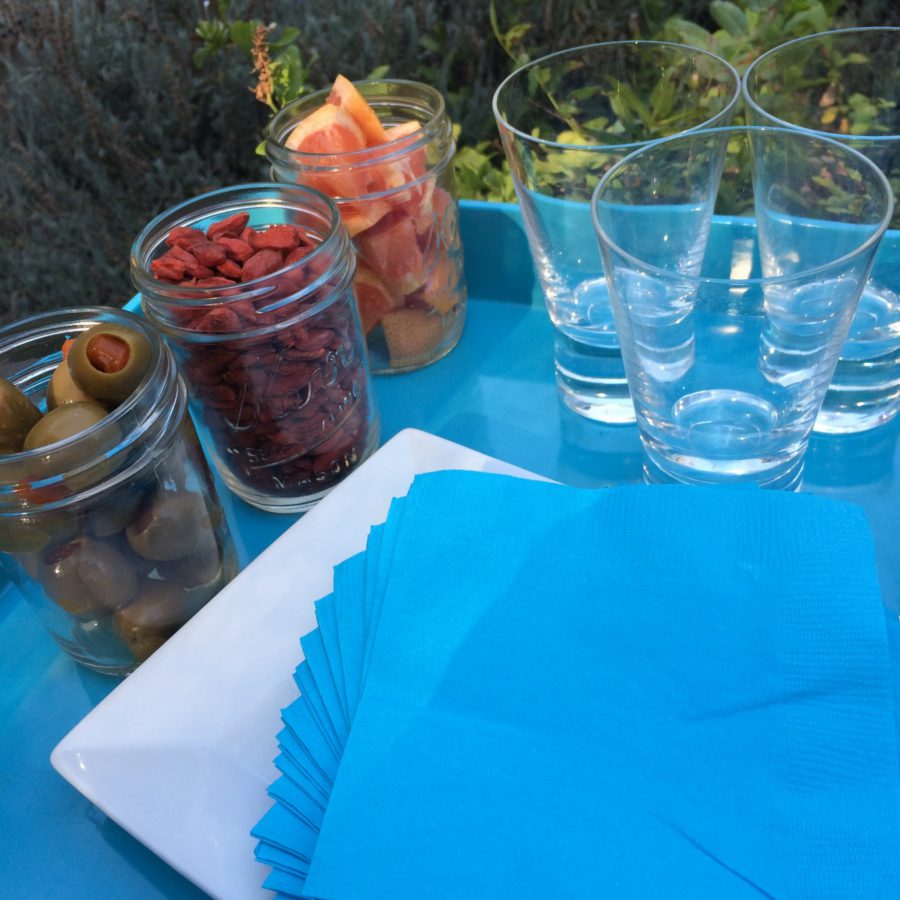 Galvanized bucket : Perfect for beer and wine. If you are feeling like taking it up a notch, this rolling galvanized bin is really nice
Now that you have the set-up handled. Let's get to the drinks…  Again, for me, less is more. There is no reason to get overly complicated. Keeping it simple doesn't equal boring. For example, you can totally elevate a brunch with a Mimosa station. Have bottles of your favorite bubbly along with multiple carafes/pitchers of various  juices like watermelon, mango, pineapple and strawberry. Pair with some great fruity garnishes like sliced lemon, limes, strawberries, blueberries in pieces of watermelon. Have some sprigs of mint as well. That mason jar caddy I was talking about above would be the perfect way to display your fruit options. Guests can mix and match their juices and fruit allowing for the perfect pop of color and taste. As far as cocktails go, the trick is figuring out the ratio. Simple math wins the race when making single cocktails into larger quantities (I knew there was a reason we learned fractions…Ha!)
To get your Adult Summer Sippin started right, below is one of my favorite new cocktail recipes…
Cucumber Goji Mule
Ingredients: 
Yields 6
1 cup vodka
1 ½ cups cucumber juice
2 cups ginger beer
½ cup Goji berries
1 Persian cucumber sliced
Place everything except for Gojis and cucumbers into your pitcher, beverage container or vessel and stir. Pour over ice and garnish with sliced cucumbers and goji berries.
Moscow Mule's have been all the rage as of late. Now we are giving them a refreshing twist by adding fresh cucumber juice and a goji berry garnish. Super yummy and perfect for the summer (spring, too!!) If you don't have a juicer, The Chalkboard mag (one of my favorite blogs) has a great cheat for making juice .
In the same vein of Superfood cocktails, we can't forget to mention our super divine Goldenberry Jalapeno Margarita recipe. Just increase the recipe using the same ratios to make it big batch friendly.
Do you have any favorite summer cocktails? Please share any of your recipes or summer entertaining tricks in the comments below.
Cheers!!!
P.S. Let's always remember to drink responsibly and NEVER drink and drive

adult timecocktailsoutdoorsrecipessummertime