Beauty
Pampering Yourself at Home…
Now, I know what you're thinking. It would be so much nicer to go to a spa, check out for few hours and let someone else cater to your every whim! That sounds divine! But if you're like me, (and I praise you if you're not) checking out for a few hours of me time sends my mommy guilt skyrocketing. There's nothing relaxing about being at a spa, meanwhile you're having mommy guilt the entire time you're being massaged. I know, I know it's silly! As moms we really do need to take time for ourselves and know that it's OK–I work on that philosophy daily. When you can set aside some time from your busy day to focus on yourself, it can truly be a reenergizing experience—and the whole family will benefit.
For some of us who just can't get away to a spa because it's too expensive or you just don't have the time or help, bring the spa home to you. Once every 10 or so days I take a nice prolonged "spa shower". Not the usual "how fast can I take this shower", but a nice, long, hot shower. And I bring out my favorite pampering products to use both in and out of the shower.
Here's a list of my pamper-yourself-at-home must-haves:
As moms we really do need to take time for ourselves and know that it's OK...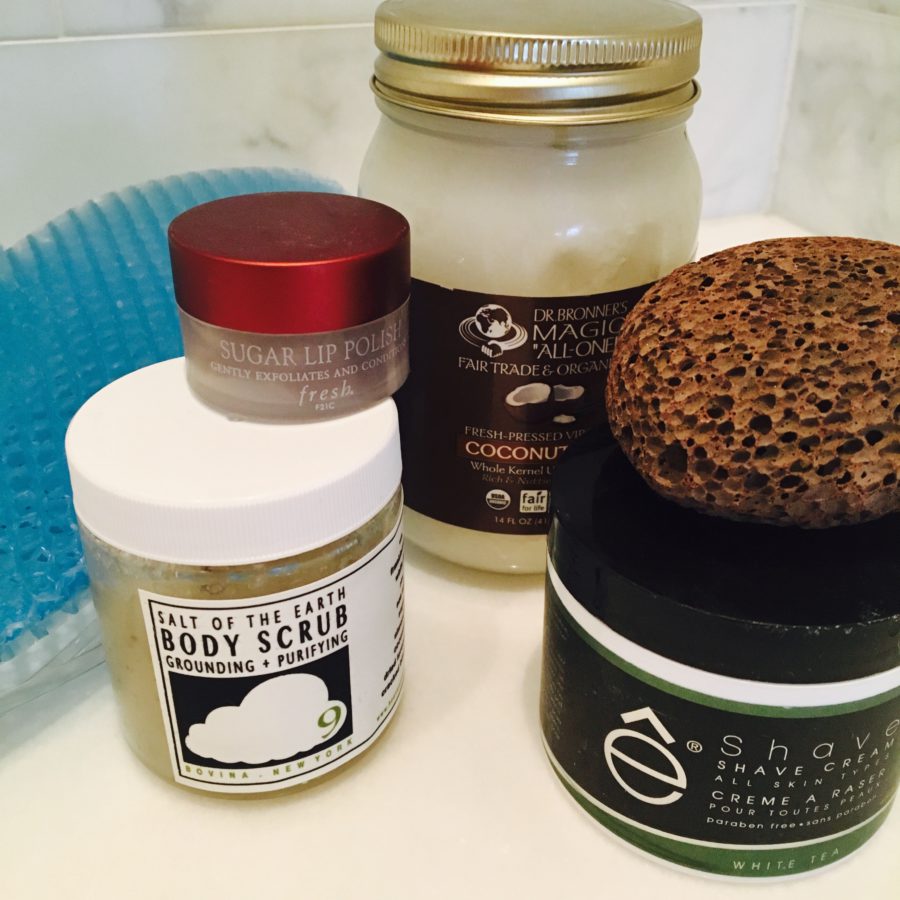 Ellis Brooklyn Candle : I keep this candle in our bathroom. Before I jump in the shower, I light it and the aroma in the air genuinely transports me into my Zen-like world with no mommy guilt attached.
Spa bath mitt body exfoliator : I LOVE these mitts. I've been using them for years. You add your body wash to the mitt and scrub. It's invigorating and you just feel clean. Here's another tip–buy two, one for each hand.
Body Scrub : This body scrub is heaven from Heaven On Main Street. Remember my friend Taylor who brought us her Kale Brownies ? Well, she has this AMAZING new skin care line and I've been benefiting from it greatly. Lucky me! Between the salt and sugar that exfoliates and the oils (including coconut oil) that makes your skin so silky smooth, the natural fragrance alone makes you feel like you're in a fabulous spa.
Pumice : Walk a mile in my shoes… and boy are my feet dry! Those winter months sure took a toll on my feet. Look after them. A good scrub is never a bad choice.
Sugar Lip Polish : When was the last time you exfoliated your lips? Exactly. Try it! It's all about pampering yourself and doing something that you normally wouldn't do on any given day.
Coconut Oil : After my shower and before I towel off, I slather this product all over my damp body. I'm a HUGE coconut oil lover as everyone has gotten to know by now. Once you wipe it off with your towel, it's already soaked in nicely and you feel and smell lovely.
Triple Oxygen Facial Mask : Once I'm out of the shower I throw this mask on my face. This is my go to quick fix 5-minute mask. The foamy mask slowly disintegrates after 5 minutes. Wash your face and you'll look and feel so refreshed and your skin will look completely revived.
Face Oil Calm & Clear : It's like a spa in a bottle. Just breathing in the pure Rose otto, Frankincense, Indonesian Sandalwood, two types of Chamomile and a healthy dose of Lavender, all encourage a sense of peace and tranquility. Everything you'll need to get back out there to your spectacular mamahood world feeling invigorated. It'll have your skin feeling hydrated but not too oily.
You deserve to treat yourself to some pampering—even if it's at home. Do you have any me-time routines or rituals?
Emma xx

adult timeBathbeautymamahoodmust-havesshop